Irish boat blocked from fishing off Rockall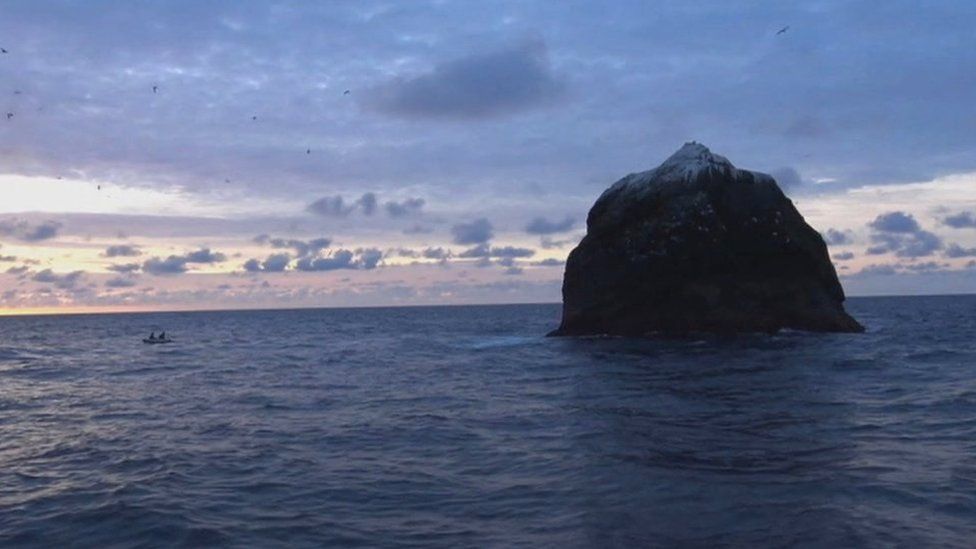 An Irish fishing vessel has been blocked from entering waters around Rockall in the North Atlantic.
Its captain Adrian McClenaghan was told he can no longer fish within 12 nautical miles of the eroded volcano as a result of Brexit.
The Irish Department of Foreign Affairs said it is aware of the incident.
It said it has been in contact with UK and Scottish authorities.
A Scottish government spokesperson told RTÉ News: "One Irish vessel was routinely inspected outside of territorial waters around Rockall.
"The master requested clarification on the access rights granted by his licence to fish in UK waters."
There is a long-running dispute over the sovereignty of Rockall, with the Republic of Ireland disputing the UK's claim over it.
The comments were made in response to the Scottish government imposing a ban on Irish boats fishing within 12 nautical miles of the uninhabited island.
The dispute was resolved after an agreement between the Irish Department for Foreign Affairs and the UK government.
Rockall is situated about 230 nautical miles north-west off Ireland's Donegal coast.
The lucrative seabed around Rockall, rich in oil and gas possibilities as well as fish, has been the subject of rival claims from Ireland, Iceland and Denmark (on behalf of the Danish Faroe Islands).
The vessel boarded, the Northern Celt, is based in the Donegal town of Greencastle, and has been at sea since last week - but away from its normal fishing grounds around Rockall.
The Marine Scotland patrol boat, the Jura, has been in the area since 1 January, the day after the UK's Brexit transition period ended.
The Northern Celt was boarded as it prepared to cast its net.
Mr McClenaghan employs nine crew members and said the disputed waters account for around 30% of his annual catch.
A temporary licence was issued to the boat to fish in UK waters, with the stipulation that as a EU Vessel, it is not authorised to fish within 12 nautical miles of Rockall.
The Scottish patrol vessel has remained in the area.