Norway landslide: Body found as rescuers search Gjerdrum landslide
A body has been found shortly after rescuers and dog handlers began a risky ground search for 10 people missing in a hillside collapse in Norway.
Initially it was thought too dangerous to send rescuers on to the site, after flowing mud sent homes toppling into a giant chasm in the village of Ask.
Helicopters and drones spent two days searching the scene.
But on Friday police commander Roy Alkvist said one or two houses appeared safe to enter.
Rescuers, who included a Swedish specialist team, began moving into the danger zone on Styrofoam boards. The bright orange boards were laid down on the mud in a domino-effect as rescuers tried to reach one of the wrecked homes, which are 25km (15 miles) north-east of the capital Oslo.
A missing Dalmatian dog was rescued on Thursday and police believe there is still a chance survivors could be found.
However, on Friday afternoon an air ambulance helicopter landed near the site and police said a body had been found at 14:30 (13:30 GMT) without giving further details.
Prime Minister Erna Solberg said her thoughts went out to the victim's family, and to those waiting for news of the other nine people who were missing.
In Friday's operation the rescuers also prepared a giant army vehicle called a "paver", which has a giant steel bridge on which rescuers can move.
However, conditions were not yet good enough for the 50-tonne machine to be deployed.
Friday's search was a race against time, as the rescuers only had a few hours of daylight in the Norwegian winter. Medics and geologists were reportedly part of the ground rescue team.
The ground search was called off for the night at 17:30 and police said drones and heat-seeking cameras would continue overnight until rescue crews could return on Saturday morning.
About 1,000 people have been evacuated from Gjerdrum municipality, which contains Ask village. Dozens more were moved out of their homes on New Year's Eve.
Although police have not given details of the missing, they are believed to include men, women and children.
Among them is a woman who was talking to her husband on the phone while walking the dog when the line went dead, according to Bergens Tidende newspaper.
Further reports say a couple and their small child are also missing, as well as a woman in her 50s and her adult son.
More than 30 homes have been destroyed, but officials say more could be lost as the edges of the crater left by the landslide are still breaking away.
The conditions have proved challenging, with temperatures dropping to -1C (30F) and the clay ground proving too unstable for emergency workers to walk on.
The landslide began early on Wednesday, with residents calling emergency services and telling them that their houses were moving, police said.
"There were two massive tremors that lasted for a long while and I assumed it was snow being cleared or something like that," Oeystein Gjerdrum, 68, told broadcaster NRK.
"Then the power suddenly went out, and a neighbour came to the door and said we needed to evacuate, so I woke up my three grandchildren and told them to get dressed quickly."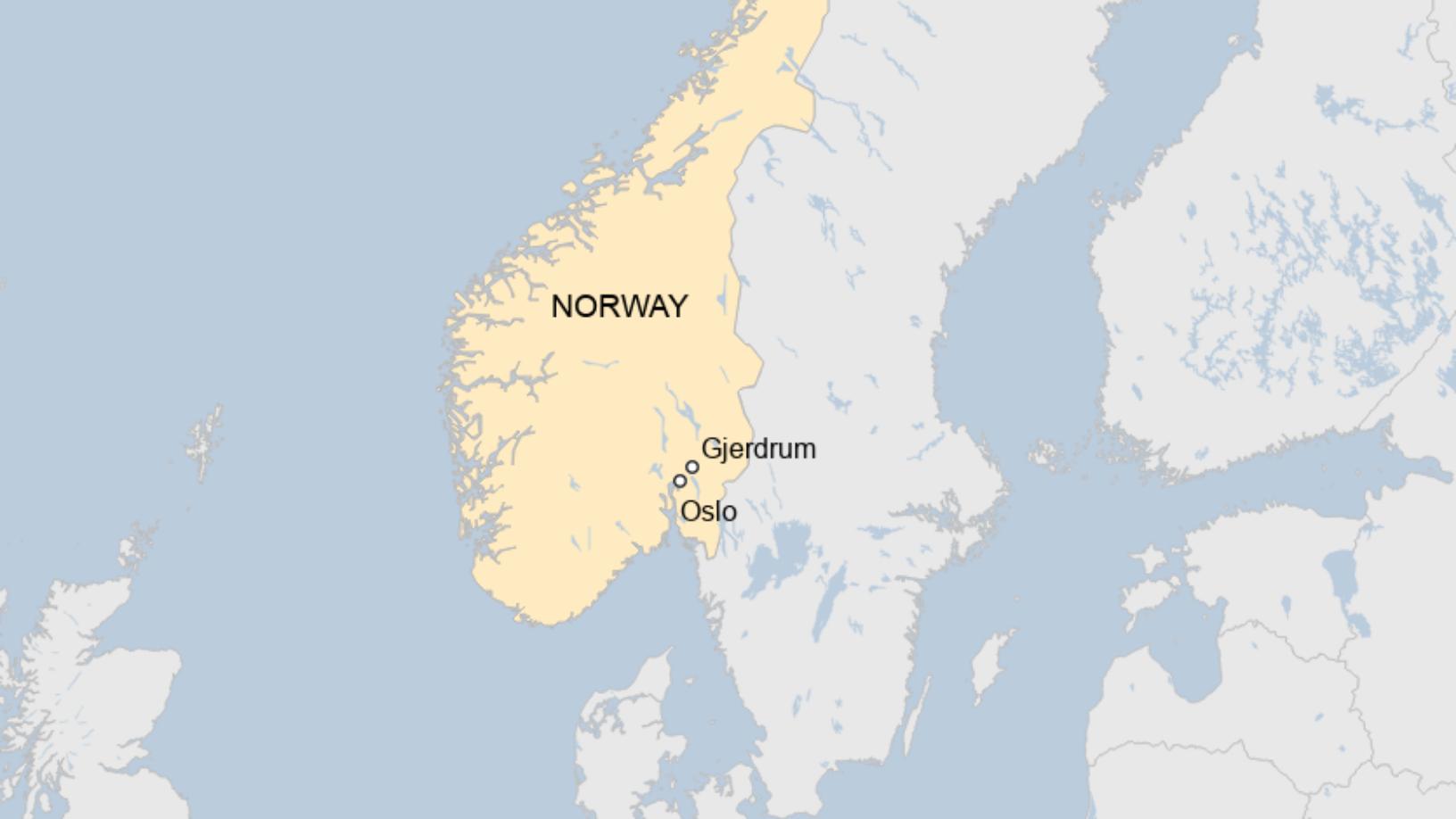 A spokeswoman for the Norwegian Water Resources and Energy Directorate (NVE) told AFP that the landslide was a so-called "quick clay slide" measuring about 300m by 700m (985ft by 2,300ft).
"This is the largest landslide in recent times in Norway, considering the number of houses involved and the number of evacuees," Laila Hoivik said.
Quick clay is a kind of clay found in Norway and Sweden that can collapse and behave as a fluid when it comes under stress.
Broadcaster NRK said heavy rainfall may have made the soil unstable, but questions have since emerged over why construction was permitted in the area.
A 2005 geological survey labelled the area as at high risk of landslides, according to a report seen by the broadcaster TV2. Despite this, the homes were built three years later in 2008.