Alexei Navalny: Report names 'Russian agents' in poisoning case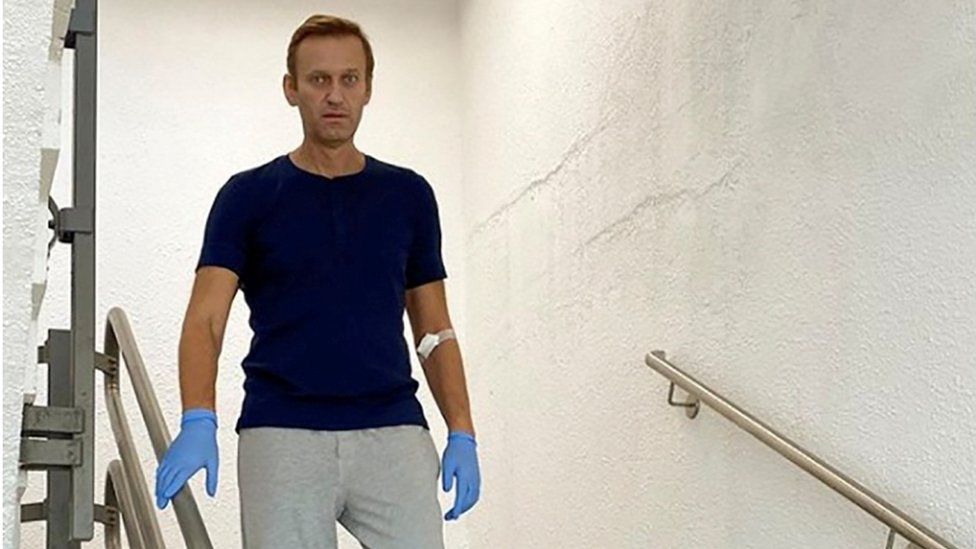 A joint investigation published on Monday has blamed Russian intelligence agents for the poisoning of top Russia opposition figure Alexei Navalny.
In August Mr Navalny - a staunch critic of President Vladimir Putin - was poisoned with the nerve agent Novichok.
He has accused Mr Putin of ordering the attack, something the Kremlin denies.
But investigative journalists at Bellingcat and Russian news site The Insider have now published a report implicating FSB agents in the incident.
According to the investigation - compiled with the help of US broadcaster CNN and German paper Der Spiegel - a group of operatives from the Russian state intelligence organisation tailed Mr Navalny for three years.
It identifies three men who travelled with the opposition figure to Tomsk, where he was eventually poisoned, and also reveals phone and travel data that "strongly suggests the August poisoning attempt on Navalny's life was mandated at the highest echelons of the Kremlin".
A joint investigation between Bellingcat and The Insider, in cooperation with Der Spiegel and CNN, has discovered voluminous telecom and travel data that implicates Russia's Federal Security Service (FSB) in the poisoning of Alexey Navalny. https://t.co/ACbA2gkV2H

— Bellingcat (@bellingcat) December 14, 2020
Moreover, they believe there had been previous attempts to poison him - and reveal that his wife, Yuliya Navalnaya, fell ill with similar symptoms to her husband just two months before the Novichok poisoning.
Mr Navalny, who in September was released from hospital in Berlin where he was treated following the attack, tweeted after the report's publication: "Case closed."
"I know who tried to kill me," he wrote. "We know the names, we know the job ranks, and we have the photos."
As yet there has been no response by the Kremlin to the investigation.
In the past it has repeatedly denied any role in the attack and has demanded evidence to prove Mr Navalny was poisoned.
The report published on Monday details a special unit of the FSB specialising in toxic substances. It identifies the group as the FSB Criminalistics Institute, otherwise known as Research Institute - 2 or Military Unit 34435.
By examining phone records and travel data, investigators were able to track members of this unit and how they allegedly tailed Mr Navalny and his team for years.
Beginning in 2017 - after Mr Navalny announced his plan to run for the presidency - operatives travelled with the opposition figure on more than 30 flights in a three-year period, the report said.
It names three men who went with Mr Navalny to the Siberian city of Tomsk in August, where he was ultimately poisoned: medical doctors Alexey Alexandrov and Ivan Osipov, and Vladimir Panyaev.
These operatives, two of whom traveled under cover identities, are Alexey Alexandrov (40), Ivan Osipov (44) - both medical doctors - and Vladimir Panyaev (40). pic.twitter.com/z1ANoK6JK3

— Bellingcat (@bellingcat) December 14, 2020
They were allegedly supported by at least five more operatives, some of whom also went to Tomsk. Investigators believe the military scientist Col Stanislav Makshakov leads the team.
By analysing phone and travel data from the FSB team, the investigators show that members were in Tomsk when Mr Navalny was poisoned.
In some cases, pings from mobile phones to network towers show they were just minutes away from him and his team in the city. A map published in the report showed the phone of one of the agents was a six-minute drive away from Mr Navalny's hotel.
It shows a flurry of calls and text messages from agents to superiors at precise times, including in the hours immediately after Mr Navalny fell ill on board a flight which was diverted to Omsk.
Moreover, investigators show that there may have been earlier attempts to poison him. His wife Yuliya fell ill when the pair were on a romantic trip to the city of Kaliningrad in July, suddenly finding it "nearly impossible to stand up" and only recovering the next morning.
Three members of that FSB squad allegedly booked flights to that city when the pair travelled there. They all spoke on the phone several times with Col Makshakov just before their flights.
"Given this implausible series of coincidences, the burden of proof for an innocent explanation appears to rest purely with the Russian state," the report concludes.
The investigative news site previously named agents of the Russian military intelligence agency GRU who in 2018 allegedly carried out the poisoning of Sergei and Yulia Skripal in Salisbury.
This is a fascinating and detailed investigation that says a lot about Vladimir Putin's Russia.
It shows that a "clandestine" FSB unit isn't so "clandestine" when investigation teams have access to mobile phone data and flight logs.
It highlights the huge resources invested into shadowing Mr Navalny since 2017: members of the unit reportedly followed him on more than 30 trips across Russia.
But the fact that - despite those resources - the Kremlin's most vocal critic is still alive suggests the security structures are no well-oiled machine.
Mr Navalny claims the authorities "have been caught red-handed".
But don't expect the Kremlin to put up its hands up and declare "You got us!"
In the face of criticism - either at home or abroad - Moscow's knee-jerk reaction is to deny everything. And to keep denying everything: no matter how much evidence is presented.