EU breaks deadlock over €1.8tn budget and Covid-recovery fund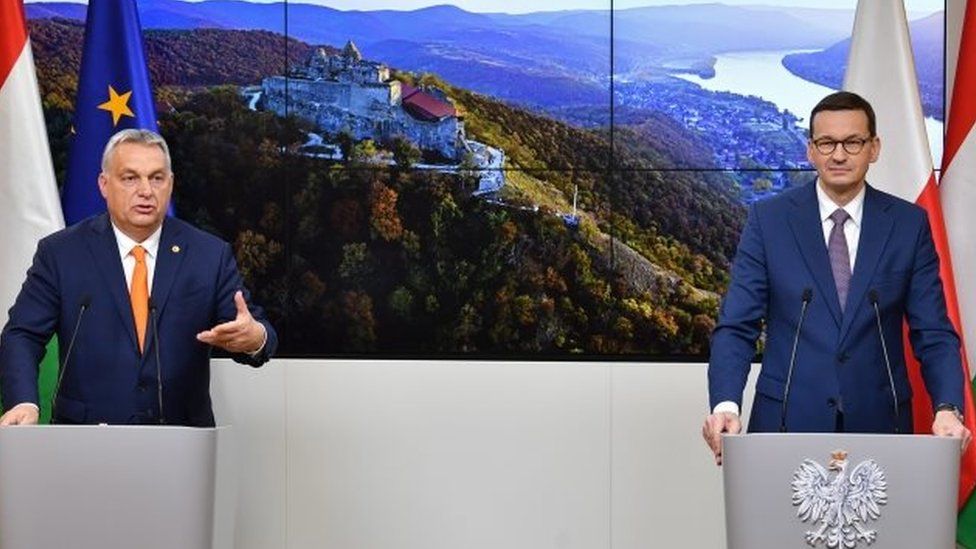 EU leaders have struck a deal over the bloc's €1.8tn (£1.64tn; $2.2tn) budget and Covid recovery fund, after reaching a compromise with Hungary and Poland.
The two nations had threatened a veto over a clause that tied funding with adherence to the rule of law.
This could have cost them billions of euros in EU funding as they are being investigated for undermining the independence of courts and media.
But they were assured that the clause would only apply to future spending.
"Our landmark recovery package will drive forward our green & digital transitions," Mr Michel added.
In July, the EU had already agreed in principle on the €1.1tn budget for 2021-2027, and the €750bn coronavirus stimulus fund - but that package needed unanimous support of all EU members.
Without the deal, the EU would have been forced to use an austerity budget for the next year.
However, the legality of the compromise deal can now be challenged by a member state in the European Court of Justice.
"We of course will do this... we are convinced this needs to be checked," Polish Prime Minister Mateusz Morawiecki told Poland's TVP television.
So, the issue has not entirely gone away, the BBC's Europe correspondent Kevin Connolly reports.
He says that most member states will still want conditions attached to EU funding in the future, and the issue has in part simply been pushed a little way down the road.