Jacques Jordaens: Baroque masterpiece found in Brussels town hall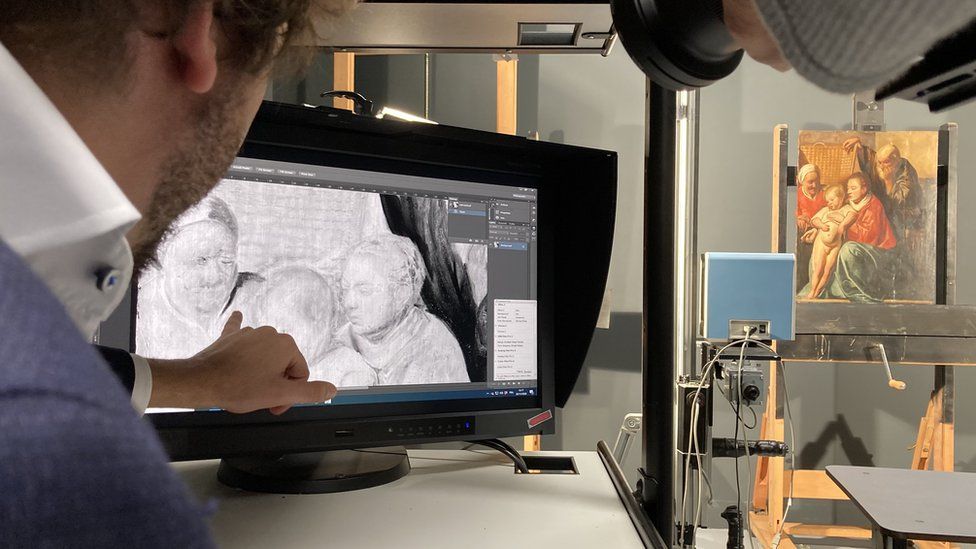 A painting that hung for some 60 years in a Brussels town hall has been authenticated as the oldest known version of one of Flemish master Jacques Jordaens' most famous works.
The discovery of the Holy Family painting was made during a 2019 inventory of cultural works in Saint-Gilles town hall.
It was thought to have been a copy.
The work dates to 1617 or 1618, said the Royal Institute for Cultural Heritage, which helped make the find.
Different variations of the painting - which depicts the baby Jesus with Joseph, Mary and her mother St Anne - are held by the Metropolitan Museum of New York, Saint-Petersburg's Hermitage and Alte Pinakothek in Munich.
A detailed analysis of the wooden panel of the Saint-Gilles painting enabled experts to authenticate it as the oldest known version of the composition, the institute said.
Joost Vander Auwera, senior curator at the Royal Museums of Fine Arts of Belgium, said the discovery not only enabled "precise dating" of Jordaens' early works but also "provides a better understanding of the material genesis of the later versions" of the painting.
But the discovery also threw up other surprises. The wood for the panel came from the same tree used in works by another Baroque master, Anthony Van Dyck.
"This reinforces the hypothesis ... that the young Jordaens and Van Dyck were active simultaneously in [Peter Paul] Rubens' studio," Mr Vander Auwera said.
The painting had hung undisturbed in the planning and development office since the 1960s until the 2019 inventory of all 800 works in the Saint-Gilles town hall.
It will now be treated to a year-long restoration project before joining "one of the largest Jacques Jordaens collections worldwide" at the Royal Museums of Fine Arts in Belgium at the end of 2021, the museum said.