Germany takes in Syrian White Helmets ex-leader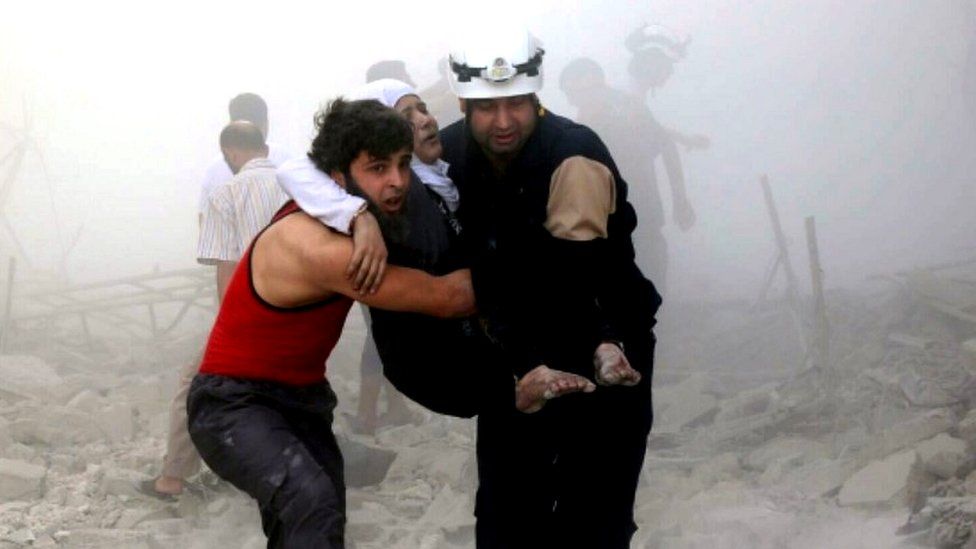 Germany has taken in an ex-leader of the Syrian White Helmets aid group and his family, despite earlier suspicions that he had jihadist links.
Khalid al-Saleh and his family flew to Germany on a German government plane on Monday, Spiegel news reported. They had been living in a Jordanian camp.
Their arrival was confirmed by the German foreign ministry.
He was among 422 White Helmets and family members who fled southern Syria during a government offensive in 2018.
In a clandestine operation, they were evacuated via the Israeli-occupied Golan Heights, at the request of the UK, Germany, Canada and the US. Jordan agreed to accommodate them temporarily.
Spiegel reports that since that evacuation the German interior ministry had refused to let Khalid al-Saleh move to Germany, suspecting him of sympathising with jihadists, but his arrival on Monday followed pressure from the German foreign ministry.
Mr Saleh denied any links to jihadists, Spiegel reported. Germany earlier refused to let him in after sending security officials to question him in a Jordanian camp, where they also checked his mobile phone contents.
White Helmets chief Raed al-Saleh told the BBC: "The German government did not find any evidence that Khalid had jihadist links, and decided to resettle him in Germany."
There was also reportedly pressure from the Jordanian authorities, who had agreed to let the Syrians stay for three months on condition that they then moved to Germany, the UK or Canada. Those nations had agreed to take them in, Jordan said.
The White Helmets describe themselves as a volunteer workforce that acts to save people in Syria's war zones. Their official name is the Syrian Civil Defence - they began in early 2013, rescuing victims of government shelling and air raids.
The White Helmets operate only in rebel-held areas where no state emergency services operate. They say all their members have signed up to a non-partisan code of conduct.
"The White Helmets do not operate in regime areas because our volunteers are targets of the regime and Russia, and risk detention or being killed for their humanitarian work," Raed al-Saleh said. "This is why Khalid was forced to leave Syria in the first place."
Syrian President Bashar al-Assad and his backers Russia and Iran say the White Helmets support the rebels and have links to jihadist groups. The White Helmets say they are victims of a campaign to discredit them because they gather evidence of what they describe as deliberate targeting of civilians by Syrian and Russian forces.
The UK has also resettled some of the White Helmets and their families who fled the war.
The countries that provided support for the White Helmets believed their lives were at risk at the time of the evacuation.
In October 2018 Jordan's foreign ministry spokesman Majed al-Qatarneh said 279 of the 422 evacuated from Syria had left, Reuters news agency reported.
Germany's DPA news agency says Germany agreed to take in eight White Helmets and their families - 47 people in all - but not all managed to flee Syria. In late 2018 three White Helmets and their family members arrived in Germany.
Update 11 Dec 2020: This story has been updated to include quotes from White Helmets chief Raed al-Saleh clarifying that in Khalid's case no evidence was found of any jihadist links.