Coronavirus: Defiant ski nations bid to save winter season
By Bethany Bell & Imogen Foulkes
BBC News, Vienna and Grindelwald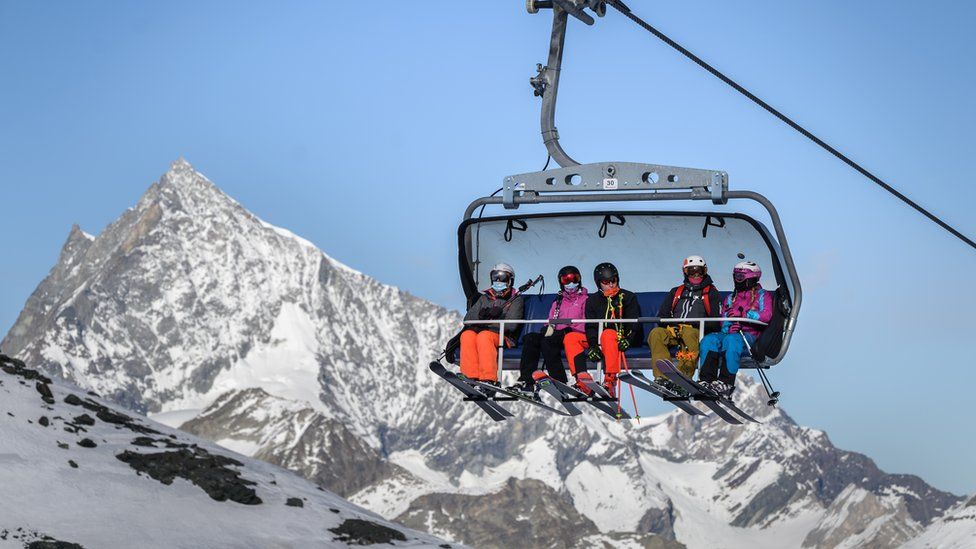 Many of Europe's busiest ski slopes will be quiet over Christmas and the New Year, in a big blow for the winter economy.
France, Germany and Italy are closing resorts over the holiday season to stop the spread of Covid-19. Italy, supported by Germany, wanted a European agreement to close all ski resorts over the holiday, but in two countries - Switzerland and Austria - the ski lifts will be running. Some ski slopes in northern Spain also hope to open.
The risk of catching coronavirus at ski resorts is already well known. In February and March, après-ski bars at resorts like Ischgl in Austria's Tyrol helped spread the virus across Europe.
Austria's ski slopes are currently closed, but will be allowed to open on Christmas Eve. However, tight restrictions will make ski holidays all but impossible for anyone who isn't local.
But ski slopes in Switzerland - outside the EU - are already open, much to the disapproval of its neighbours.
Why Swiss pin hopes on ski season
It's that time of year again. Snow, which the Swiss sometimes call weisses Gold (white gold), has been falling, and local hopes are heavily invested in thoughts of skiing.
Not just because they love to ski themselves, but because the livelihoods of entire regions of the country depend on winter sports. In Grindelwald they are opening two brand new ski lifts that cost $500m (£370m; €400m).
In the planning for years, they will whiz skiers up to the slopes in just a few minutes. But will they get any customers?
Big neighbour Germany's suggestion that Europe's ski resorts should stay closed over Christmas and New Year has caused indignation. The Swiss sometimes see Germany as arrogant: Switzerland isn't even in the European Union, and won't, said health minister Alain Berset, "react to pressure from other countries".
But he knows he is treading a fine line.
Switzerland's second wave has been tough, with some of the most intense transmission in Europe. Case numbers are falling now, but not as fast as the government would like.
The decision to manage the second wave with a "slowdown" rather than a full lockdown pleased business leaders, but many Swiss citizens, watching the rising death toll, are uneasy.
What are the Swiss doing?
So now the government is in a dilemma.
Close the ski resorts and face fury from some desperate, but also politically powerful, alpine cantons - home to Zermatt, St Moritz, or Wengen? Or keep them open and face fury from its neighbours?
France has already said it will conduct border checks to stop its citizens skiing abroad, while Austria and Germany will impose quarantine on their citizens returning from Swiss slopes. These measures signal that if Switzerland decides to stay open, its neighbours will just seal it off anyway.
Hoping to salvage the festive season, Canton Graubünden will close its restaurants for the next two weeks and Canton Berne has a 21:00 curfew.
Nightclubs have been closed for weeks - there may be skiing in Switzerland, but there is no après-ski. Masks are obligatory on lifts, even the open-air chairlifts. The resorts insist their safety concept is good, they have no intention of becoming a giant Ischgl - or Swisschgl, as one cynic here put it.
And now the government has come up with some new rules too. Not, it insists, because of European pressure, but just to help the resorts stay safe.
To open, resorts must apply for a permit and will receive one:
If the epidemiological situation is favourable
If the test and trace system works 100%
Hospitals must have empty beds - for broken legs as well as Covid cases
Enclosed lifts must only be two-thirds full.
Resorts can lose their permits if they do not comply.
As so often in Switzerland, it's a compromise that hopes to please everyone and may end up pleasing no-one.
What is Austria's compromise?
Austria is reopening its ski slopes for Christmas, but not its hotels or its restaurants. That means that skiing will really only be possible for people who live close enough to the mountains for a day trip.
Chancellor Sebastian Kurz said skiing was "a sport that takes place in the open air, an individual sport". It should, he said, be "evaluated differently" to visiting restaurants or bars, where infections are more likely.
Mr Kurz, who doesn't live near the mountains, said he wouldn't personally profit from the open ski lifts himself, but he said it would be nice if people "who have a ski resort near them have the chance to go skiing".
But that doesn't include people who live just across the border in countries such as Germany or Italy. In an apparent concession to Rome, Paris and Berlin, Austria is introducing a stricter quarantine regime over the holidays, from 19 December to 10 January.
Anyone arriving from a country with more than 100 coronavirus cases per 100,000 people in the previous two weeks will have to quarantine for 10 days, although an early release is possible if they test negative after five days.
Franz Hörl, spokesman for the association of cable-car operators in Tyrol, has criticised the Austrian government's decision not to allow restaurants in the ski areas to open. He said it was irresponsible not to allow people up a mountain the chance to have a warm drink.
There are hopes that winter tourism may be possible as of the second week of January, but everything depends on getting and keeping infection rates down.
Ski resorts in neighbouring Switzerland, however, stand to make a tidy profit over Christmas and New Year.
Whether the Swiss approach will actually work will only be clear from the level of infections sometime in mid-January.