Why Europe's big cannabis route is so hard to shut
By Kostas Koukoumakas
Athens
"Now we're on their turf," says one of the three Greek drug enforcement officers, walking, guns at the ready and bloated in their bulletproof vests.
A short distance ahead lies the porous border with Albania. This is the biggest land route for cannabis trafficking in Europe.
The Greek border village of Haravgi Ioannina is nearby, but there is no barbed wire or any other barrier to mark the frontier.
"Cannabis is trafficked on foot by Albanians who live in villages on the other side of the border," says Greek officer Lambros Tsoumanis, who spends much of his time patrolling these mountains. "They are hardy, tough people and know all the crossings like the back of their hand. They can survive for days in the forest."
Greek police have confiscated 1.5 tonnes of cannabis since the beginning of the year. The previous two years, they seized almost nine tonnes.
The smugglers, usually armed with Kalashnikovs, carry bags filled with 40-50kg of cannabis on their backs.
They hide the drugs near designated spots - a large tree or a fountain - and the bags are then picked up by members of a Greek network. A kilo of cannabis can fetch upwards of €1,000 (£900) wholesale in Albania, but drug barons in Italy or Greece will pay double.
Police stage regular raids on both sides of the border, but the smuggling continues.
All that was meant to change in the summer of 2014, when Albanian special forces launched a major operation in the village of Lazarat, about 30km from the Greek border.
Several days of battles ensued. Rocket-propelled grenades and mortar shells were fired at police, but by the end more than 10 tonnes of marijuana, thousands of cannabis plants and firearms were confiscated.
The Balkans already lay on one of the most established drug-trafficking routes in the world.
Now, cannabis was profiting village growers as well as organised crime groups selling it across the European Union. To a generation of young Albanians, the illicit trade offered a way of making money, as it did for civil servants, police and politicians, according to the Global Initiative.
Artan, 39, is one of Albania's young cannabis producers on the make.
Sitting in a bar in the coastal city of Vlore, he explains how you can make a fortune, at least until you get caught. "You can bribe the local chief of police or the Drug Enforcement Agency, but if someone rats you out, then it's every man for himself," he says.
Artan's not his real name. He spent two years in Italy but came back to run the business from his home. "This year we found a good piece of land in the pastures near the town of Tepelene, a three-hour walk in the mountains," he says. He claims to have planted 50,000 cannabis plants this year alone, a big number even by Albanian standards.
"There are three basic rules - access to water, staying far away from police and prying eyes, and patience."
He pumps water from a spring 2km away and has his father pick up fertiliser, so he is not himself caught on CCTV.
When the cannabis is ready for sale, it is moved to a village near the border. Then the smugglers take it "either on foot or on mules across Greek territory".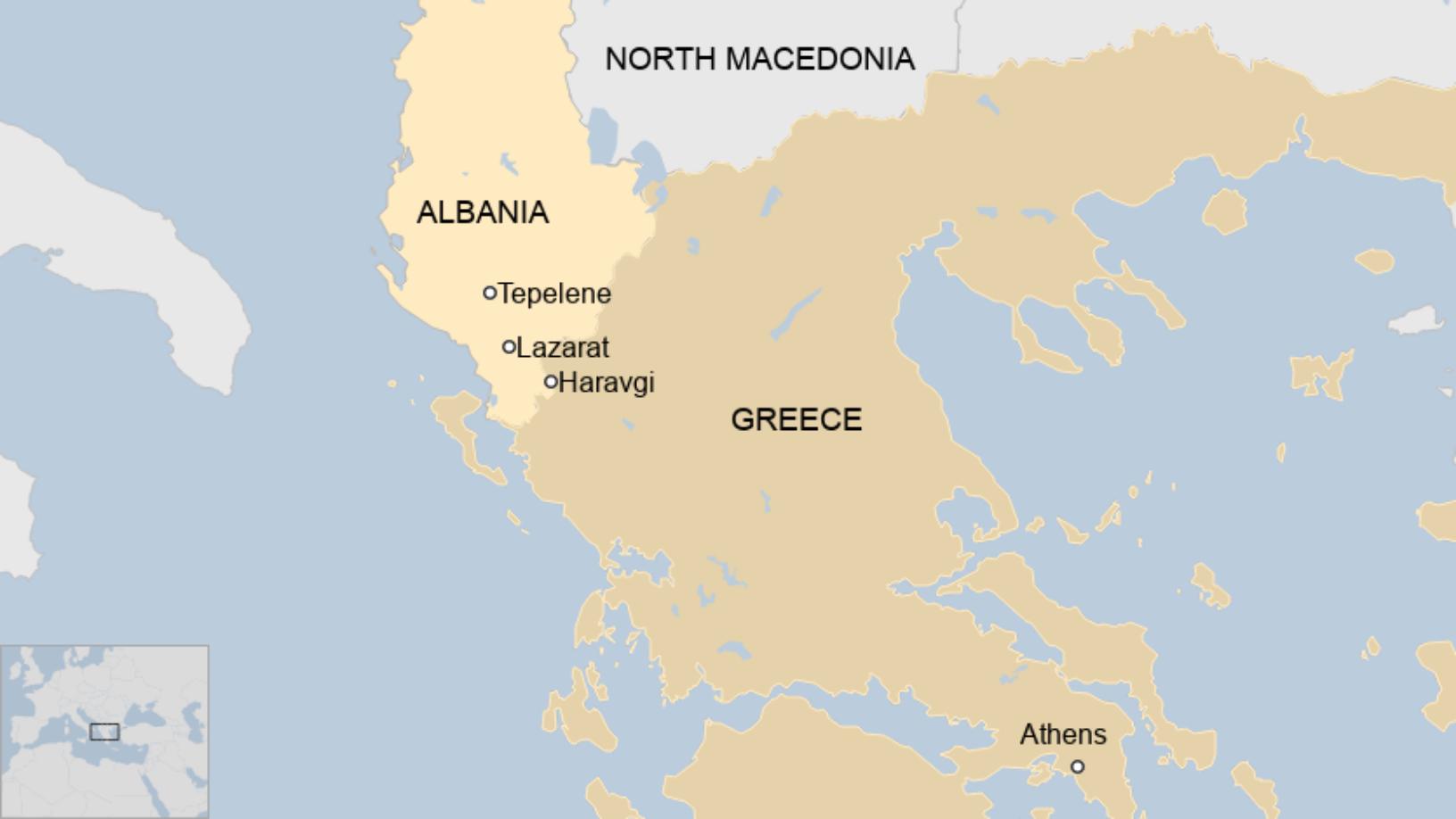 Albanian Prime Minister Edi Rama promised there would be no let-up in the war on drugs as he pushed for entry to the European Union.
But little changed and cannabis producers began seeking new markets - not just Greece and Italy, but Turkey, Germany, the Netherlands and the UK too.
Now, the Albanian leader has sought to turn this illicit trade into a legitimate economic asset. In May, he abruptly announced that the government had been working on a bill to legalise medical cannabis for the past year and that illegal cultivation was under control.
Albania not only has to tackle organised crime and corruption, it also has to convince the European Union it is doing so.
So far nothing has been lined up, a senior government official has told the BBC. And the experience of Albania's neighbours suggests there will no quick fix:
Greece has legalised both industrial hemp and medical cannabis but to little economic effect
In North Macedonia medical cannabis production is legal, but tonnes of cannabis buds and cannabis oil are sitting in storage. The longer it remains there, the greater the risk it will find its way on to the illegal market.
Albanian police have begun using drones to find the main illicit cannabis plantations that have sprung up. But dense forest either side of the Greek border makes the task of tracking down the smugglers even harder on Europe's biggest cannabis route.
Vladimir Karaj contributed reporting from Tirana. This story was part of a cross-border investigation supported by iMEdD - Incubator for Media Education and Development.