Nice attack: 'Such friendly faces' - city in shock after murders
By Lucy Williamson
BBC News, Nice
Outside the doors of Notre-Dame, the bright light of a Nice morning rose on Friday on small collections of flowers and candles left by local residents overnight. The message on one bouquet reads, "Nice is still standing. Rest in peace."
For the living, though, peace seems far from reach.
Outside the church was the treasurer of Notre Dame, Jean-François Gourdon. He knew one of the victims well: the church warden, Vincent Loquès.
He told me how he'd left Vincent in the church yesterday morning, just before the attack, and had returned to find him dead - a large wound to his throat.
"I'm completely devastated," he said, describing the emptiness he felt. He went straight to tell Vincent's wife. "As soon as she saw me, she knew," he said.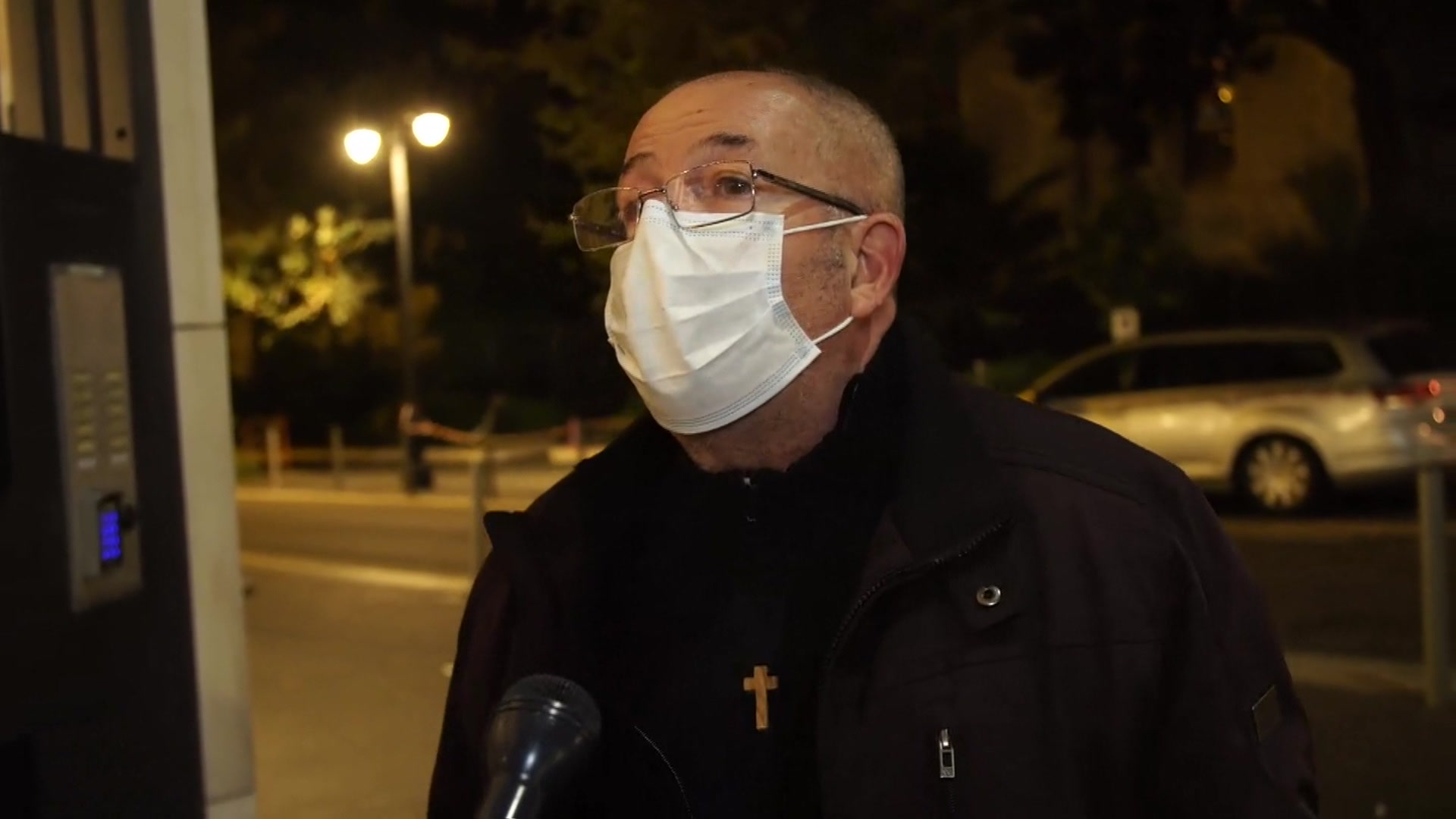 BBC
You dedicate your life to helping people and then this happens. It creates a big hole
The couple had just bought a house in a nearby village and were making plans to move. They had been due to celebrate Vincent's birthday this week.
This is the third terrorist attack France has suffered in just over a month.
After a knife attack on staff at a television company in Paris, and the beheading of a history teacher in a nearby suburb, there are now three more victims, killed inside this church.
President Emmanuel Macron has been increasingly insistent that this is a battle for France's fundamental values, and that the country "will never give in" to what he called Islamist terrorist attacks.
Military patrols are being doubled, to provide extra protection to churches and other places of worship, and also to schools when they return from holiday next week.
The government has already launched a frenzy of initiatives after the beheading of teacher Samuel Paty a fortnight ago: clamping down on radical Islamist rhetoric and associations, curbing online hate speech, and terrorist funding; and promising more support for schools.
That murder of Mr Paty, for showing his class cartoons of the Prophet Muhammad, triggered a surge of secular defiance in France.
At the teacher's memorial, President Macron defended France's right to offend, saying the country would never give up making cartoons.
This time, though, the target was religious. The message: faith offers no protection and France no place of refuge from attack.
One man stopped outside Notre-Dame last night to ask us, "Which one is it?"
He lived opposite the church, he told us, and had heard the gunfire. He knew all the officials at Notre-Dame.
"They're such friendly faces," he said. "If it's the younger one, that's terrible." He meant Vincent.
He turned to go back home, still dazed by what had happened.
Other residents seemed far more resigned.
This is not the first time France - or Nice - has lived through a horrific attack. Since 2015, there has been terrorist violence every year. And security is just one fear among many at the moment.
"We're going to have to reconsecrate the church," Mr Gourdon told me, ruefully. "But it'll only be a few of us, because of lockdown."
There's been a sharp surge in coronavirus infections across the country, and - despite real fears for the economy - France re-entered national lockdown today.
The deaths of Vincent and his two parishioners have already slipped down the headlines, as France enters a strange new kind of reality, where the most human instincts will again be disrupted, and mourning will take place behind closed doors.