Covid-19: Record traffic around Paris as second French lockdown begins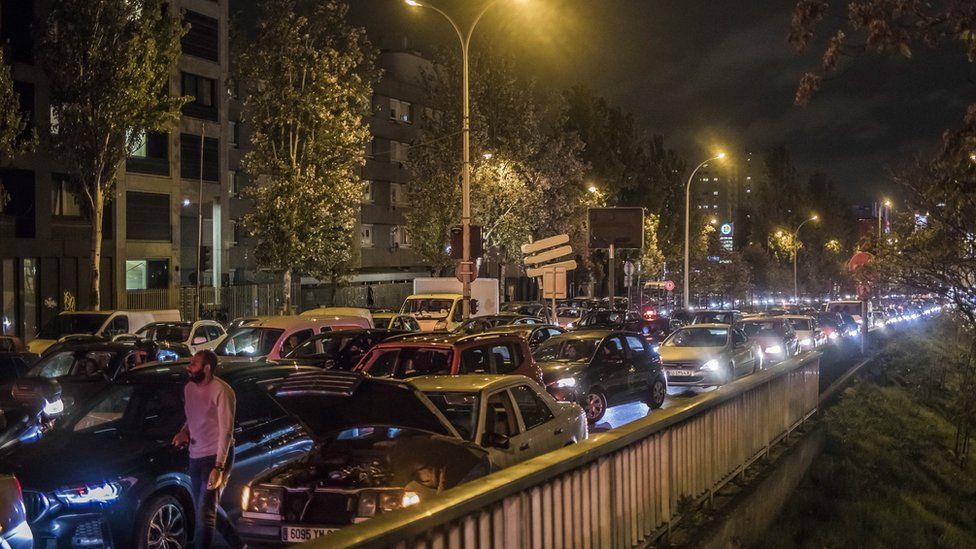 Traffic around Paris hit record levels just hours before a new national lockdown came into force across France.
Jams stretched to a cumulative 430 miles (700 km) in the Ile-de-France region early on Thursday evening, local media reported.
Lockdown measures came into force at midnight on Friday (23:00 GMT) to tackle spiralling Covid infections.
People have been ordered to stay at home except for essential work or medical reasons.
President Emmanuel Macron said the country risked being "overwhelmed by a second wave that no doubt will be harder than the first".
Daily Covid-19 deaths in France are at the highest level since April, and on Thursday, authorities reported 47,637 new cases and 250 new deaths.
French media report that many Parisians have left the city - and their often cramped apartments - to spend lockdown in the countryside.
Incredible traffic jam in Paris as people try to leave the city before 9 pm curfew and before confinement begins at midnight. Traffic is barely moving in every direction as far as the eye can see. Lots of honking and frustrated drivers. pic.twitter.com/6Zn2HCxuPl

— Michael E. Webber (@MichaelEWebber) October 29, 2020
Anna, 24, told Le Figaro newspaper that she had left her family's Paris apartment for their second home in Bernay in northern France. She said spending the first lockdown in Paris was "psychologically hard" - but in Bernay, "the air is cleaner, we breathe, we feel free".
Some travellers may have also been Parisians returning to the city after holidaying elsewhere in the country during a French school holiday, which ends this weekend with All Saints' Day.
Heavier-than-usual traffic and long tailbacks were also reported around the major cities of Lyon and Bordeaux in the hours before the lockdown came into force.
The traffic jams are reminiscent of an urban exodus that happened in March ahead of France's very strict first national lockdown. At the time some residents of French regions were hostile to Parisians who had fled the capital.
"We're asking people to stay at home and Parisians to stay in Paris. You can well understand that if 4,000 people from Paris invade and one-third of them are infected without knowing, obviously it risks spreading rapidly," wrote one commentator in the local Sud Ouest (South-West) newspaper.
During the first Covid wave, however, certain regions of France - Paris and the north-east in particular - were being badly hit when the lockdown was imposed, while other areas had comparatively few cases.
This time, officials have said the virus is spreading fast all over the country.
Meanwhile, European Commission President Ursula von der Leyen said that Brussels had set aside €220m (£200m) in order to transfer Covid patients from hard-hit member states to other nations with spare hospital beds.
She also called for European Union countries to pool their coronavirus data, and urged them not to close their borders to each other.
But she said that "we don't encourage travel now", and that people in Europe should only be embarking on trips to other states if they were essential.
During a video call with EU leaders, Ms von der Leyen also said that work should now begin on preparing the infrastructure for a mass-vaccination programme, to be ready for when vaccines are approved.