Coronavirus: Italians find new ways to eat out
By Dany Mitzman
Bologna
It's eight o'clock inside a traditional restaurant in Via de' Coltelli in central Bologna. Customers arrive punctually to be seated at one of the six available tables.
Faced with the resurgence of Covid-19 in Italy, this Bolognese osteria is doing something different.
The ebb of the first wave and summer al fresco dining saw an encouraging return to business for many Italian eateries and bars; but as the cold sets in, this second wave in is forcing restaurateurs to find new ways to stay afloat.
New national restrictions mean restaurants and bars have to close by midnight until 13 November and can seat a maximum of six people per table.
From Thursday night, the northern region of Lombardy is imposing a full curfew from 23:00 to 05:00 and, further south, the regions of Campania and Lazio follow suit the next day.
'One hour is for hungry people in a hurry'
Vagh in ufezzi is a simple restaurant with paper place mats and no cover charge. Until two weeks ago, diners would have paid for each dish they ordered; now they are paying by the hour.
"We needed to find a new formula otherwise we wouldn't have managed to stay open beyond Christmas," says Antonella De Sanctis, who serves the food that her husband, Mirco Carati, cooks.
A table costs €18 (£16.50; $21) per person for one hour, and €26 for two hours, excluding wine, liqueurs and coffee.
"You can go through the menu if you don't get lost in chit chat," says Mirco. "One hour is for hungry people in a hurry, two hours becomes a normal dinner."
The couple were inspired by stories Mirco had heard as a child about post-war Bolognese osterie a tempo, where poor people could order "10 minutes of pasta and beans".
The less time you spent, the less you paid - a way of both satisfying and serving a lot of people.
With mandatory distancing measures, their restaurant has gone from being able to seat 25-30 to just 15-16. But, as Antonella points out, expenses like rent and utilities remain the same.
"We didn't want to double our prices because it wouldn't have been fair on our clients: to suddenly find the same dish at twice the price because we'd halved the number of covers. So we found an idea that would allow our business to remain open."
Is it working?
So far, it is. At the end of the first week, takings were back to pre-Covid figures.
A good solution, but not for everyone, according to Vincenzo Vottero, president of the restaurateur's association, Confcommercio Ascom Bologna.
"The catering sector is very varied," he told the BBC. "The latest decree, making businesses close at midnight, was a blow to places where they normally serve from 23:00 on."
The rules also ban serving unseated outdoor customers from 18:00, after which time only table service is permitted.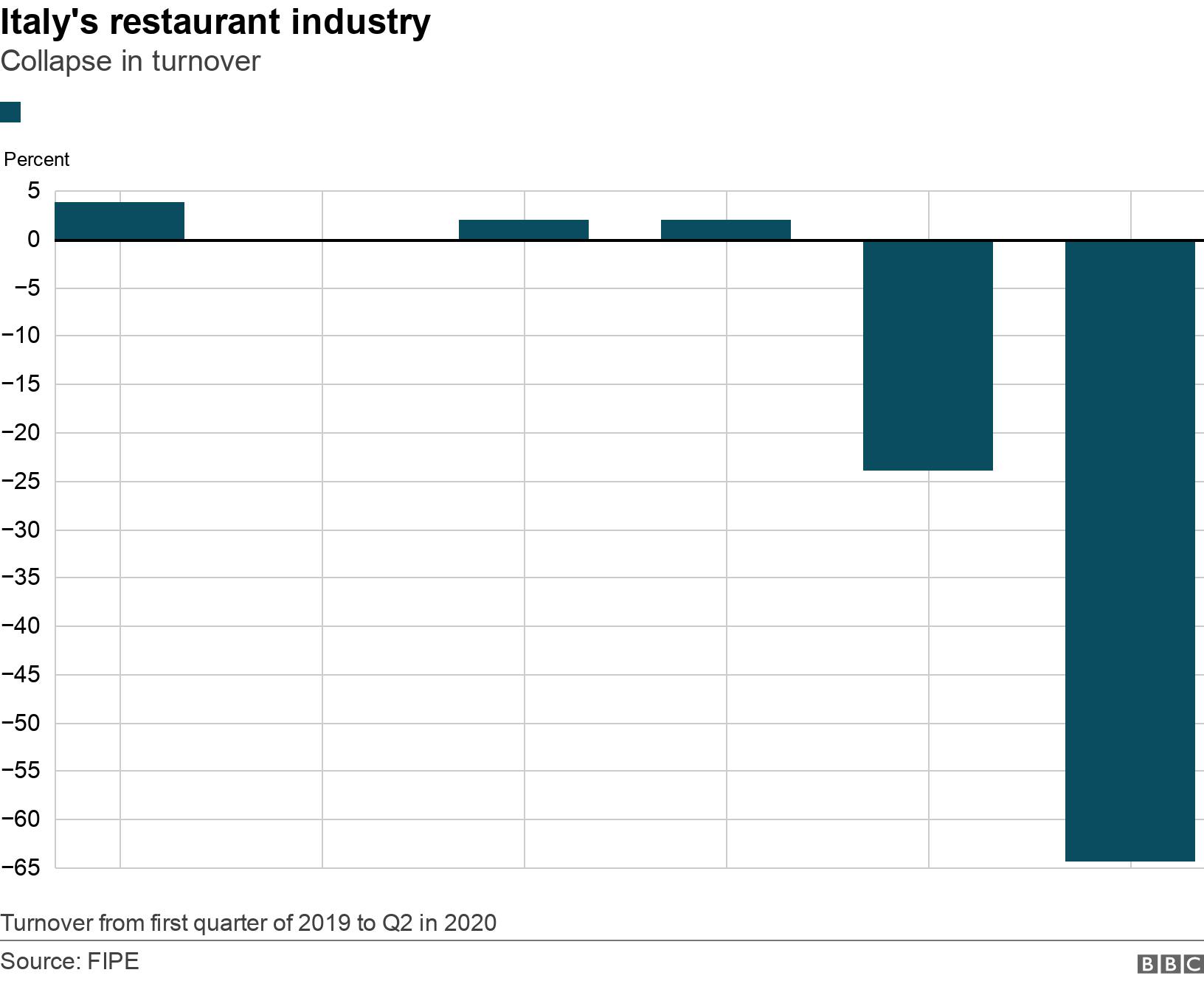 Mr Vottero cites one local bistro owner who is now looking into offering lunches instead of late-night suppers.
According to Italy's public business federation Fipe, the national restaurant sector registered a 64% loss in takings, equivalent to €13bn in the second quarter of this year.
Is government helping?
Fipe has asked the government not to enforce a stricter curfew, estimating that even closing restaurants an hour earlier would lead to a further loss of €500m per month.
Mr Vottero, a restaurant owner himself, believes that instead of sending customers home, there should be more checks to make sure businesses follow safety protocol properly.
As for receiving support, he says city councils have made concessions.
In Bologna, refuse tax has been halved and, in common with many other Italian cities, permission to put tables outdoors without charge has been extended until the end of the year. That kind of permit would usually be extremely expensive and difficult to obtain.
But the situation, in his words, is now critical, as the weather worsens and people are encouraged to work and stay at home.
While the latest rules continue to allow restaurants to offer takeaway and delivery services, many in city centres and business districts have lost much of their regular clientele.
"Customer numbers have gone down by 50 to 80% for most restaurants, and many businesses are up for sale," he says.
Bologna may be struggling, but Venice and Florence have even greater difficulties as most restaurant business comes from tourism.
'We have to turn people away'
The heart of Bologna is popular with tourists, locals, students and business people alike.
Dating back to 1465, the Osteria del Sole is the oldest in town and has been run by Federico Spolaore's family since 1946.
They only serve drinks here. Customers traditionally bring their own food to eat at the long wooden tables. It's a place where, until recently, you sat elbow-to-elbow with strangers.
"People used to sit down, chat, and get to know each other. I've seen people meet here, get married and then have their wedding reception here," laughs Mr Spolaore.
He has had to cut the number of seats from 130 to 70 as well as lose the traditional crowd of customers standing round the bar.
All bars and restaurants are currently required to display a sign at the entrance, indicating the maximum number allowed inside according to Covid protocol.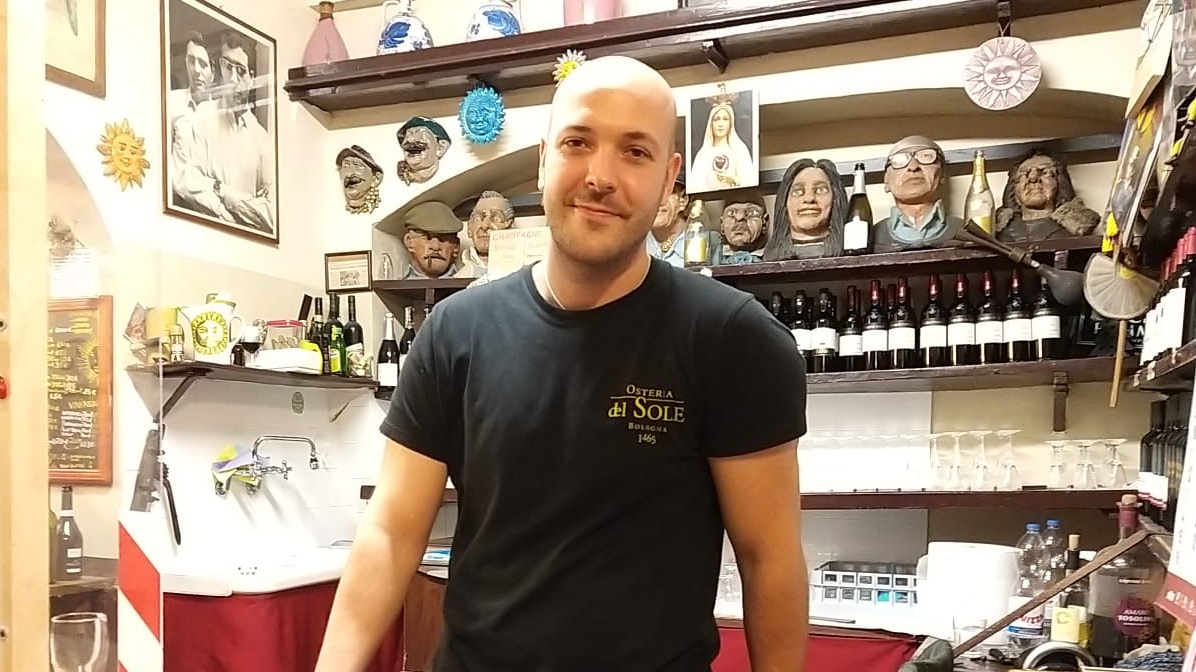 BBC
Unfortunately, we have to turn a lot of people away. Many don't understand that things are different now
"It's difficult to manage because people still think of the osteria as it was before and are finding it hard to accept the new rules."
Thriving pre-Covid, Mr Spolaore says they've had to make sacrifices and today are "just about managing to make ends meet".
When Italy's restaurants re-opened during the summer, people ate outside. His osteria is indoors. "Covid has already clipped the wings of our osteria."
Although he admires the idea of charging customers by the hour, it is not for him. "Otherwise the whole concept of our osteria would be spoilt: it's all about conviviality."
But with three members of staff to pay, as well as suppliers, rent and bills, he has had to put prices up. A glass of wine has risen from around €2.50 to €3.50.
With infections rising fast in Italy, Bologna's restaurants will have to continue to adapt. But Federico Spolaore says even if there is a second lockdown, his family is prepared.
"This osteria is an institution that can't be lost and Covid's certainly not going to demolish it. We'll use all our resources to keep going."