Irish PM agrees date for cross-border meeting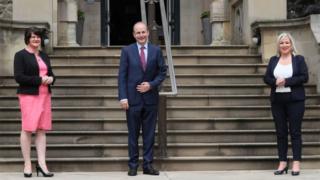 The first and deputy first ministers and Taoiseach (Irish PM) have agreed to hold a meeting of the North-South Ministerial Council on 31 July.
Micheál Martin met Arlene Foster and Michelle O'Neill for joint talks at Stormont castle for the first time since becoming taoiseach.
They also discussed the two governments' response to the Covid crisis and Brexit.
Mr Martin also met other Stormont parties.
Following the meeting, Mrs Foster said: "Recovery from the coronavirus pandemic was a key focus of our conversation as we work simultaneously to protect people and rebuild our economies.
"As two jurisdictions sharing an island it makes perfect sense that Northern Ireland seeks to build a positive relationship with our neighbours in the Republic of Ireland.
"We have seen the benefits of collaboration through the North West Cancer Centre and the all-island Congenital Heart Disease Network, for example."
The first minister said that she told Mr Martin that she was keen to have positive dialogue "based on mutual respect for both jurisdictions and understanding of each other's differences".
The deputy first minister described the joint meeting with Mr Martin as "significant and substantial".
Michelle O'Neill said she appreciated that Mr Martin had visited Stormont so early in his tenure.
"We had a good discussion about a number of issues including our response to Covid," she added.
Quarantine rules
Ms O'Neill said the differences in quarantine rules in the Republic of Ireland and Northern Ireland were discussed and that she believed announcements would be made next week.
"We talked about the fact that we do need to be aligned as much as possible," she said.
Last week the Stormont Executive changed its rules so that people coming from almost 60 countries into NI do not need to self-isolate when they arrive.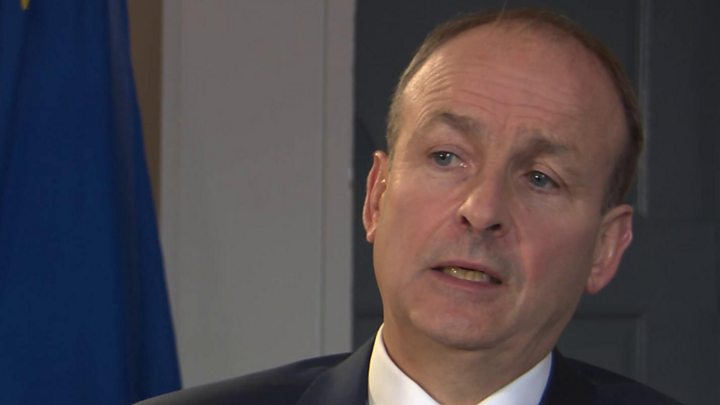 Irish authorities require anyone entering the Republic of Ireland, apart from those from Northern Ireland, to self-isolate for 14 days.
That advice remains in place until 20 July.
Mr Martin has said the Irish government remains cautious about travel off the island of Ireland.
After his meeting, Ulster Unionist leader Steve Aiken said he believed it represented an opportunity to "reset relations".
He said he believed relations with the Irish government had not been as good over the past three years and he hoped this would change under Mr Martin's administration.
Alliance MP Stephen Farry said they shared common ground with the Irish government on many issues.
Date for next North-South Ministerial Council
The North-South Ministerial Council (NSMC) is the main body for cross-border co-operation between the governments of Northern Ireland and the Republic of Ireland.
It is attended by ministers from both sides of the border who oversee joint working in areas such as trade, food safety and agriculture.
It has not met in full since November 2016 because of the suspension of Northern Ireland's power-sharing government.
The assembly was restored in January 2020 but only a handful of ministers attended an impromptu meeting of the council in March, as the Covid-19 pandemic began to take hold.