Russian space official Safronov charged in treason probe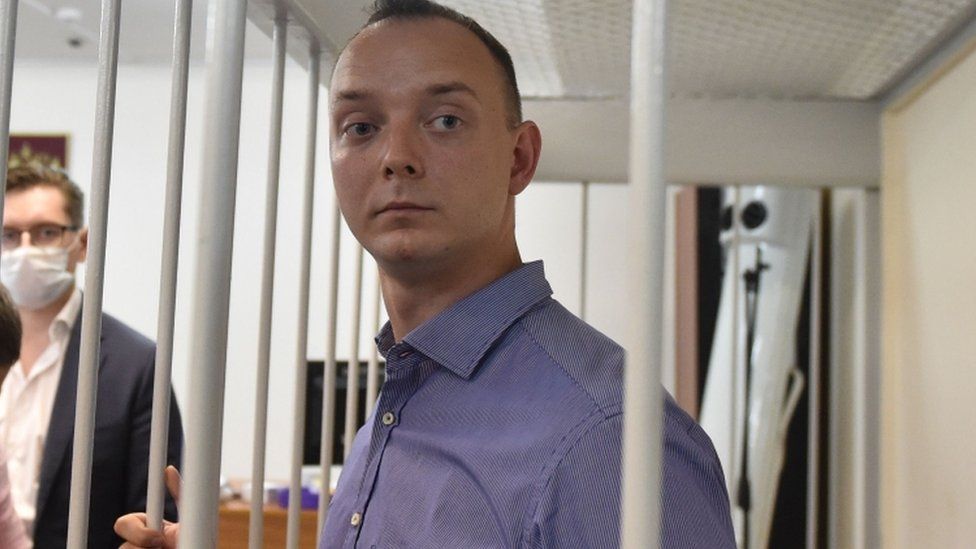 An adviser to the head of the Russian space agency has appeared in court on charges of treason.
Russia's FSB security service said he was suspected of spying for a Nato country. He has denied the charges.
Previously he reported on military topics for two major Russian business dailies - Kommersant and Vedomosti.
Separately on Tuesday journalist Taisiya Bekbulatova was detained after police raided her flat.
Bekbulatova, the chief editor of independent news magazine Holod Media, is reported to be a friend of Safronov.
She was questioned as a witness, Kommersant reports, and later told reporters she was unable to answer their questions because of the nature of the case. She did say the FSB had confiscated her computer and other technical equipment during their search.
Kremlin spokesman Dmitry Peskov said of the treason allegations facing Safronov: "As far as we know this is not linked to his prior journalistic activity in any way."
Safronov joined Roscosmos as information adviser to director general Dmitry Rogozin in the middle of May.
The space agency said it was helping investigators with their inquiries.
The former journalist faces up to 20 years in jail if convicted.
Veil of secrecy in such cases
Kommersant newspaper, where Ivan Safronov worked for a decade, calls the charge of treason against him "absurd" and describes him as a patriot. Friends and colleagues are demanding an honest and open investigation.
But that will be hard ever to know. Precise information is notoriously hard to obtain in spy cases, with trials held behind closed doors and even defence lawyers banned from sharing key evidence.
The Russian security service, the FSB, also appoints its own experts to determine what constitutes a state secret, and contesting their conclusions is nigh on impossible.
There will be an especially intense focus on this case, though. Ivan Safronov is well known in Moscow journalist circles. A young man who wrote on often sensitive, military topics, he's described by friends as honest, open and professional and there is a sense of bewilderment - and fear - here at his arrest.
An FSB statement said Safronov was believed to have been working for the security services of an unspecified Nato country.
"He gathered and passed to its representative classified information about military-technical co-operation, defence and security of the Russian Federation," it said.
But in his court appearance, Safronov said he did not admit any guilt.
He refused to give evidence during questioning by the FSB, exercising his right to remain silent, Tass news agency said.
Meanwhile, friends and former colleagues posted messages of support on social media. Several fellow journalists were arrested outside FSB headquarters while demonstrating against his arrest.
What do we know about his work as a journalist?
Safronov was highly acclaimed as a reporter on military and space issues for Kommersant, before moving to Vedomosti last year.
In June 2019, court proceedings were held over the alleged disclosure by Kommersant of information constituting a state secret.
The information reportedly had to do with an article co-authored by Safronov about Russia's deliveries of Su-35 fighter aircraft to Egypt. The report was later removed from the Kommersant website.
By the time of the court case, Safronov had been sacked from the newspaper for an article he worked on suggesting that Russian upper house speaker Valentina Matviyenko was about to leave her post.
The entire politics desk of the paper resigned in protest at the dismissal.
Safronov's father, also named Ivan, was a well-known military commentator at Kommersant.
Ivan Safronov senior had been investigating claims of planned Russian arms sales to Syria and Iran at the time of his death, Kommersant said.
The Roscosmos State Corporation for Space Activities, to give it its full name, evolved into its current form in 2015 as a national corporation responsible for a wide range of space flights and programmes.
Mr Rogozin, a controversial nationalist politician, took charge of the agency in May 2018.
But it has been beset with problems. An accident later in 2018 forced the launch of a Soyuz rocket to the International Space Station to be aborted.
Just before this incident, the crew on the ISS had discovered a mysterious hole.