Coronavirus: Irish St Patrick's Day parades cancelled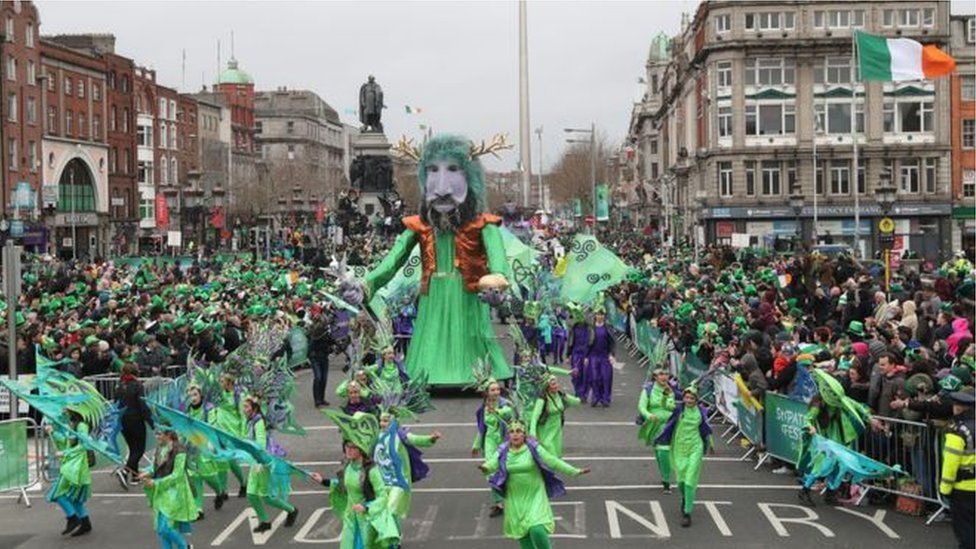 St Patrick's Day parades across the island of Ireland have been affected by coronavirus.
On Monday night, Belfast City Council in Northern Ireland voted to cancel the city's parade.
Earlier, Taoiseach (Irish PM) Leo Varadkar announced all parades and festivals in the Republic of Ireland would not go ahead.
Other parades in Northern Ireland are still scheduled to go ahead but are under review.
Members of Belfast City Council have tonight taken a precautionary decision to postpone this year's St Patrick's Day parade and concert #BelfastStPats

— Belfast City Council (@belfastcc) March 9, 2020
Meanwhile Mr Varadkar announced a €430m (£375.7m) package for the Health Service Executive to deal with the impact of Covid-19.
He said the Republic of Ireland would stay in the "containment phase" for as long as possible.
But it would move to the delay and mitigation phase in the coming weeks.
On Monday evening, three new cases of coronavirus were confirmed in the Republic of Ireland bringing the total to 24 cases.
The cases of two women in the south of the country and one woman in the west are associated with close contact with already confirmed cases.
One of the women is a healthcare worker.
The Irish cabinet has agreed a package of reforms for sick pay, illness benefit and supplementary benefit.
They are designed to ensure that employees and the self-employed can abide by medical advice to self-isolate where appropriate, while having their income protected to a greater degree than under the current social welfare system.
Irish Health Minister Simon Harris has said the coronavirus situation is very serious.
He said it was going to require not just a whole of government approach, but a whole of society approach.
Mr Harris told RTÉ's Morning Ireland that there was a moderate-to-high risk that Ireland would follow a pattern seen in other EU countries such as Italy, France and Germany with regard to the Covid-19 outbreak.
St Patrick is the patron saint of Ireland and is celebrated across the globe every year on his feast day, 17 March.
Dublin hosts the largest parade attracting an estimated 500,000 people last year.
Parades are held both in the Republic of Ireland and in cities and towns across Northern Ireland.
The day is celebrated on the international stage too.
On Monday, two more cases were confirmed in the Republic of Ireland, bringing the total number there to 21. One of the patients has an underlying condition and is seriously ill.
On Sunday, five people were diagnosed with coronavirus in Northern Ireland, bringing the number of cases to 12.
Health officials said both cases were community transmissions and did not involve people who had returned recently from at-risk areas.
For advice and the latest updates on the coronavirus outbreak, the Public Health Agency has a dedicated website.