Chinese tourists found dead by 1973 Iceland plane crash site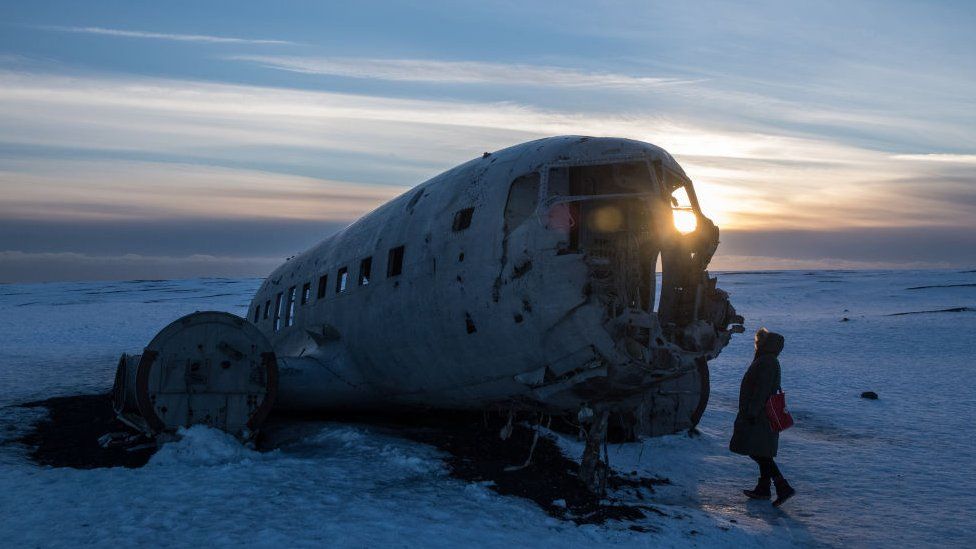 Two Chinese nationals in their early 20s have been found dead at the site of a 1973 plane crash in southern Iceland.
Police said the man and the woman were found near the Sólheimasandur crash site, which draws tourists.
A police spokesman told the BBC a post-mortem would take place early next week to establish the causes of death.
Officers had not found any signs of a "criminal act" by a third party, he said, adding that the bodies showed signs of hypothermia.
In 1973, a US military plane crash-landed on the beach at Sólheimasandur. No one was killed.
The fuselage of the plane still rests at the site, and has become a tourist attraction.
According to a police statement (in Icelandic), officers were first called to the scene on Thursday after people found a woman's body off a footpath leading to the crashed plane. Officers found the man's body a short distance away about two hours later.
A car thought to have been rented by the couple was found in the site's car park. China's embassy has been informed of their deaths, the statement said.
"We have been lucky in the explosion of the tourism industry in recent years, although there are a few events of this kind that we have had to deal with," he said.
BBC technology reporter Chris Fox has been to the site:
For decades, the Sólheimasandur crash site has attracted tourists keen to see something a little more unusual among the natural beauty of Iceland.
The plane is far off the beaten track. A sign at the nearest car park on the main road warns that it can take slow walkers up to two hours to reach the plane, and another two hours for them to get back.
There is a shuttle bus that takes tourists directly to the plane - though like everything else in Iceland it isn't cheap and many holidaymakers decide to walk instead. When I visited in September, the bus driver told me the site had experienced a surge in popularity since Justin Bieber skateboarded on the wreckage in 2015.
But once the shuttle bus drops you off and leaves, you really are out in the wilderness until it returns. As you can expect, the weather in Iceland can be bitterly cold, and it can turn quickly and unexpectedly.
You may also be interested in: