Irish general election to be held on 8 February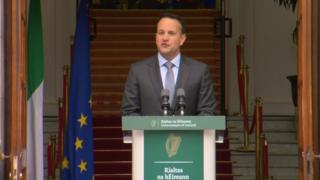 A general election will be held in the Republic of Ireland on Saturday 8 February.
Taoiseach (Irish PM) Leo Varadkar has asked President Michael D Higgins to dissolve the Dáil (Irish parliament).
Mr Varadkar said there was a "window of opportunity" to hold a poll before the next European Council meeting in March.
He said the vote is on a Saturday for the first time to help parents, students and those living away from home.
"We have a deal on Brexit and Northern Ireland. Our economy has never been stronger; there are more people in work than ever before, incomes are rising, poverty is falling and the public finances are back in order," Mr Varadkar said, on the steps of Government Buildings in Dublin, on Tuesday.
"As a nation, we have every reason to be hopeful and positive about the future."
On Tuesday afternoon, the taoiseach went to Áras an Uachtaráin (the Irish president's residence) and asked President Higgins to dissolve the Dáil.
'Not been listening to people'
Irish European Affairs Minister Helen McEntee said Fine Gael was looking forward to the campaign.
She added that it had taken seven and a half years to achieve a stable economy to allow government to re-invest in areas like housing and health.
However, Fianna Fáil's Director of Elections Dara Calleary told RTÉ's Today with Sean O'Rourke that Fine Gael "have had nine years" and they have not been "listening to people".
Sinn Féin's David Cullinane said his party was "going in to win" and would put forward an ambitious manifesto.
He said there have been "failures" in housing and health and public services.
Shane Harrison, BBC News NI Dublin Correspondent
Opinion polls suggest Leo Varadkar's Fine Gael party is marginally ahead of Fianna Fáil, which is the main opposition party led by Micheál Martin.
But last week's local election results - normally a good indicator of what will happen in a general election - suggest that Fianna Fáil has a very good result and has made headway in Dublin.
The Irish capital has, for nearly a decade, been a relative black spot for the main opposition party.
Sinn Féin, led by Mary Lou McDonald, goes into this election knowing it will do well to hold onto its current number of seats.
The party has had a series of poor results recently, notwithstanding one by-election win and both the main parties have ruled out going into coalition with Sinn Féin.
He also said that a united Ireland must be planned for.
Minister for Health Simon Harris said Fine Gael would talk to anyone about forming a coalition after the election, other than Sinn Féin.
Labour leader Brendan Howlin said he is hopeful of a better election for his party after successes at last year's by-elections.
He said what his party is hearing on the doors is that housing and health need greater investment.
Independent TD Michael Healy-Rae has said he and his brother, Danny, will seek re-election.
He said the election was long overdue and the taoiseach "has fudged this".