Ryanair baggage fee policy ruled 'excessive' in Spain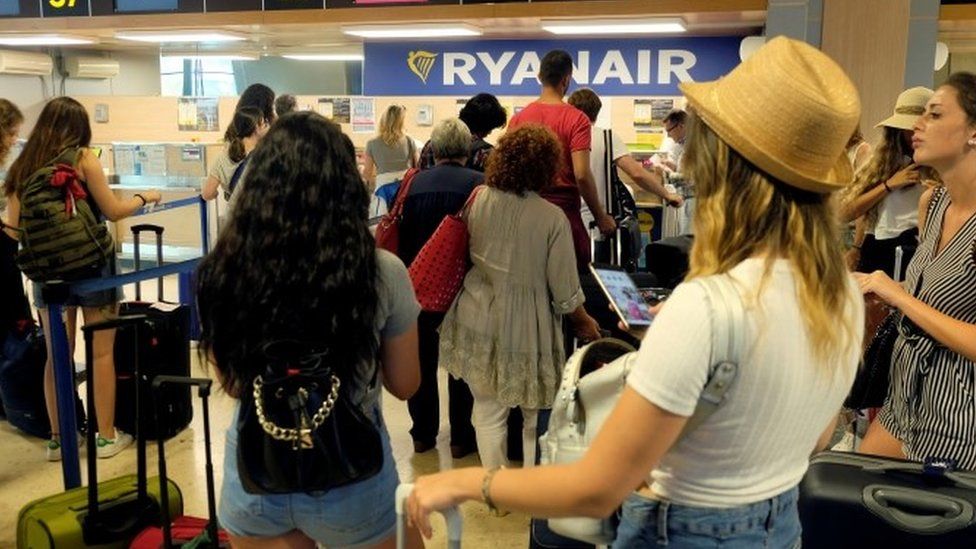 A Spanish court has called budget airline Ryanair's policy of charging a fee for hand luggage "excessive" after a passenger was fined for taking a carry-on bag without a special ticket.
The passenger was forced to pay a €20 (£17) fine to bring her 10kg luggage on board.
Ryanair allows only small bags as hand luggage if they can be stowed beneath the seat in front.
The airline said it would not change its policy.
The passenger was travelling from Madrid to Brussels when she was charged to bring her extra luggage.
The airline has a policy of charging customers an additional fee for carrying anything more than one personal item on board. Larger bags can also require a luggage fee.
In its ruling, the Commercial Court ruled that the woman should be refunded with interest.
The baggage could easily have fitted in the cabin, the judge said. He ruled the policy to be null and void and told Ryanair "to remove it" from its terms and conditions.
However, compensation was ruled out as the judge did not deem the case to have caused enough stress to the disgruntled passenger.
The airline said it would not change its policy.
"This ruling will not affect Ryanair's baggage policy, either in the past or in the future, as it is an isolated case that misinterpreted our commercial freedom to determine the size of our cabin baggage," it said in a statement.
The ruling cannot be appealed against.
'I wore my helmet to avoid a fee'
Another Ryanair customer took a unique step to avoid paying an extra baggage fee.
Martin Gibson says he was flying from Billund, Denmark to London in February when he was informed he would have to pay to check in his motorcycle helmet.
The Londoner argued that the helmet was a hat, at which point he says Ryanair employees told him if it was a hat he would have to wear it.
Martin told the BBC he had to wear the helmet for about 45 minutes at the departure gate and on the walk to the plane, otherwise he wouldn't have been allowed to board.
While wearing his helmet at the gate, Martin says he "stood next next to the ladies enforcing this absurd rule to make sure everyone else got a good chuckle out of it".
Once on the plane, he was allowed to take off his helmet and stow it in the overhead bin.
He says he's carried the helmet on previous flights, both on Ryanair and other airlines, and not had issues.
The BBC has contacted Ryanair for comment.