Donegal: Fifteen rescued swimmers were caught in rip tide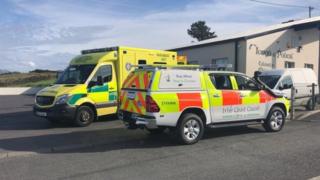 Fifteen people from an Irish college rescued from the sea in County Donegal were caught in a rip tide while out swimming.
The incident happened at Machaire Rabhartaigh in west Donegal. The Irish Coastguard was called at about 16:30 local time on Tuesday.
Eleven people, 10 of them teenagers, along with the principal of Gael Linn college, were taken to hospital.
They were treated for hypothermia and shock.
All but one were discharged on Tuesday night. The teenagers are understood to have been aged 14 and 15.
"They were swimming on the beach itself, the conditions were fine, but unfortunately, with the tide turning they got caught in a rip tide which basically takes you out to sea," Dara O Malley Daly of Malin Head Coastguard said.
"They were swept out maybe 200 or 300 metres, but the rip can take you out maybe 300 to 400 metres.
"It can be very disconcerting, you can be swimming along and everything's fine, but when a rip current comes, it just takes you out to sea.
"You can't swim against it - it's like a river flowing from the shore out to sea and it really catches people unawares."
As well as the Coastguard vessel, the 118 rescue helicopter - which had been on an exercise in the area - two fishing boats and the Tory Island ferry all took part in the rescue.
Mr O Malley Daly said it was fortunate there had not been a major tragedy.
"Fifteen people were in difficulty, thankfully everybody was successfully rescued," he said.
"There could have been major casualties, but thankfully people on the shore had their mobile phones and they dialled 999."
It is understood the beach did not have lifeguards on it.
Mr O Malley Daly said anyone caught in a rip tide should try and swim parallel to the shore and not against the tide.
"That will get you out of it and then line up with something on shore, like a house or a pole and swim back to shore," he said.
"The other thing would be to swim at lifeguarded beaches. They'll have safe places to swim and they'll be able to advise you on rip currents that will appear at certain times."
He added: "If you see anything that doesn't look right, doesn't feel right, we would ask you to call 999 and ask to speak to the Coastguard. Don't delay it."
A post on the Gael Linn Facebook page read: "The Irish coastguard, together with local people and college staff, assisted in the rescue.
"The good news is that everybody is fine and all have been discharged with the exception of the college principal who is making a good recovery.
"The parents of the students involved were contacted immediately."