Dover: Dublin man charged with 'largest UK port gun seizure'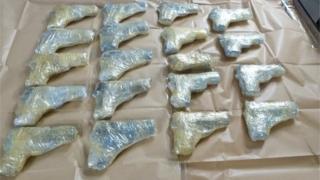 A man from Dublin has been charged with illegally importing firearms after 60 weapons were found in a car arriving in Dover from Calais.
The National Crime Agency (NCA) said the guns were found concealed in a Volkswagen Passat by the Border Force and NCA on Friday.
It is believed to be the largest seizure of lethal-purpose weapons at a UK port.
Robert Keogh, 37, is due to appear at Margate Magistrates' Court on Monday.
The NCA's Andrea Wilson said the removal of a "huge haul" of lethal firearms would make "a significant impact" on the organised crime group which tried to import them.
She said: "There's little doubt that these weapons would have gone on the criminal market and into the hands of seriously dangerous individuals."
Among the weapons discovered in the car was a Sig Sauer P226 blank-firing handgun with a barrel converted to fire live ammunition.
Another 59 firearms were found hidden deep inside the car's bumper and both rear quarter panels.