Ursula von der Leyen: Merkel ally chosen for EU top job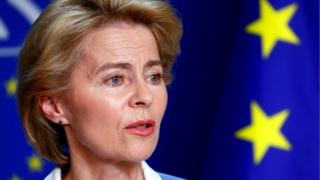 Ursula von der Leyen's name is unlikely to have cropped up in early conversations as European leaders wrangled over the best candidate to replace Commission President Jean-Claude Juncker.
A long-time close ally of Chancellor Angela Merkel, Germany's defence minister was not well-loved by its armed forces and her record was not without its failures.
And yet, she has emerged from the shadows, nominated by EU members states and backed by the European Parliament for the top job, after initial compromise deals collapsed.
She praised MEPs for placing their confidence in her: "Your confidence in a united and a strong Europe that is ready to fight for the future. It's a big responsibility and the work starts now."
On 1 November Mrs von der Leyen will be the first woman to take on the Commission presidency, with responsibilities including proposing new EU laws, enforcing the bloc's rules and handling trade deals.
Where does she stand on the big issues?
Ahead of the European Parliament vote, she twice set out her values:
Gender balance: She announced plans to fill EU commissioner posts with equal numbers of men and women and said she would ask European leaders to give her two candidate names - one male, one female - for each post. Currently only eight of the 28 EU commissioners are women. Soon after her nomination she adopted the twitter hashtag Europe Is A Woman.
Brexit: She still hoped the UK would abandon its plan to leave the EU, but also warned the UK to take responsibility and "sort things out". She said she stood ready for a further extension of the UK's withdrawal date from 31 October "should more time be required for a good reason". On the Irish border, she said the Northern Ireland backstop - the most controversial part of the agreement negotiated between the EU and UK Prime Minister Theresa May - was "precious, important, and has to be defended".
Climate change: She promised to introduce a "Green Deal for Europe" within 100 days of taking office, to set into a law a target of making the EU carbon-neutral by 2050. She plans to turn parts of the European Investment Bank into a Climate Bank. Her comments have failed to satisfy the Green parties.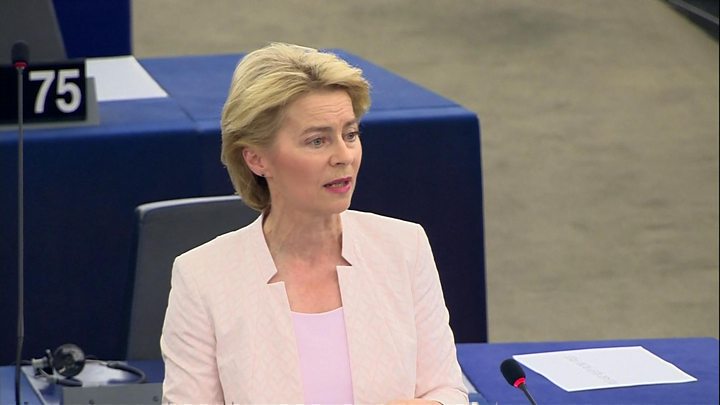 Migration: She said she was committed to reforming the EU's asylum system, which member states have been struggling with for years, with a reinforced border guard. She spoke in favour of enlarging the eurozone and the EU's open-border Schengen area, and said the bloc should be ready to take in Western Balkan countries.
Defence: While backing Nato as the "cornerstone of our collective defence", she said the EU should invest in joint defence capacities that would complement those of the Western alliance. The EU should "become more assertive" towards the United States, she said.
So what's her background?
Born in Brussels, her family moved to Germany when she was 13. She studied economics at London's LSE and medicine in Hanover before going into politics.
Fluent in English and French, she has been a member of Mrs Merkel's conservative Christian Democrats (CDU) since 2005.
She told the European Parliament that her father, Ernst Albrecht, who was a senior official in Brussels in the 1950s before becoming a German state premier, had always told his children that when countries traded, they built friendships and did not shoot each other.
Now 60, Mrs von der Leyen is the mother of seven children, highly unusual in a country where the average birthrate is 1.59 children per woman.
She is seen as a staunch integrationist, backing closer military co-operation in the EU and highlighting earlier this year the "potential Europe has to unify and to promote peace".
Her appointment as German defence minister in 2013 was unexpected and followed three months of coalition talks between the CDU and the centre-left Social Democrats (SPD).
As defence minister in the EU's most industrialised and populous country, she has argued for Germany to boost its military involvement in the North Atlantic Treaty Organisation (Nato).
However, her tenure in the defence post has not been without incident.
What's her record as defence minister?
In recent years, a litany of stories have exposed inadequacies in Germany's armed forces, from inoperable submarines and aircraft to shortages of personnel.
A report published last year highlighted the shortfalls, saying they were "dramatically" hindering Germany's readiness for combat. It said that no submarines or large transport planes were available for deployment at the end of 2017.
Last month, two German air force jets were involved in a mid-air collision during a military exercise over north-eastern Germany.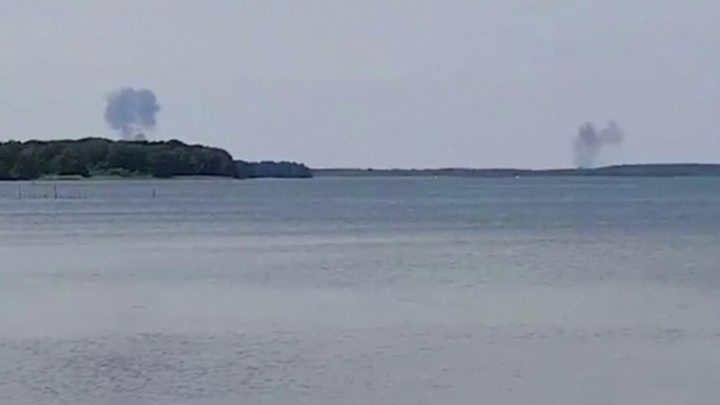 While her appointment was initially seen as a fresh start for a German ministry beset by problems, Mrs von der Leyen was last year questioned as part of an investigation into spending irregularities.
Her defence department was accused of awarding questionable private contracts to consultants that were said to be worth millions of euros.
She later admitted that a number of errors were made in allocating contracts and that new measures were being implemented to prevent it happening again.