Donegal Rally: Manus Kelly was driver who died in crash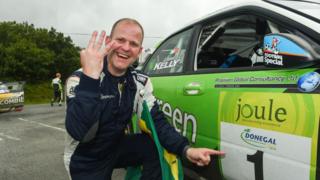 Tributes have been paid to rally driver Manus Kelly who was killed in a crash at the annual Donegal International Rally.
Mr Kelly, 41, a married father of five, was a three-time winner of the competition and also a newly-elected Fianna Fáil councillor in Donegal.
Mr Kelly's uncle, Jim Lynch, said his nephew "was at the top of his game".
"You would have thought he was invincible. He was a superstar to anyone who follows rallying."
Mr Kelly's co-driver, Donall Barrett, was injured in the incident, which happened at about 12:20 BST on Sunday.
He was taken to Letterkenny University Hospital but his injuries are not thought to be life threatening.
It is understood the crash occurred at the Fanad Head loop on the final day of the three-day event.
Known as 'Mandy', Mr Kelly was a businessman in Letterkenny in County Donegal.
Speaking to BBC Radio Foyle, Mr Lynch said his nephew was just settling into his new role as a Donegal County councillor.
"Just a month ago, we all held him shoulder high and carried him out of the count. Everything had been so positive, " Mr Lynch said.
Fianna Fáil leader Micheál Martin offered his condolences to Mr Kelly's wife and children saying that he had "just embarked on a promising career in local politics".
"As three-time consecutive and reigning champion of the Donegal International Rally, Manus's racing talent was limitless.
"He was widely respected and loved by all of the rally community here in Ireland.
"It was obvious throughout his recent election campaign that he was passionate and entirely committed to serving the people of the Letterkenny electoral area which he cherished."
'Upbeat mood'
Fianna Fáil TD Pat Gallagher spoke to Mr Kelly as he set out on the first stage of the rally on Friday.
"I was with him on Friday before he set out for the first stage with his young son, he was in an upbeat mood and up for the challenge," he said.
"I didn't think it was the last time I would speak to him."
Motorsport Ireland said an investigation is now under way into the cause of the incident.
"The entire motorsport community extends its fullest sympathy to the family of the bereaved," a spokesperson for Motorsport Ireland added.
Damian Crawford from Donegal Motor Club praised Mr Kelly's talent as a rally driver.
"He was a hugely gifted driver, he was one of the best drivers we have ever seen," he said.
The Donegal International Rally is a three-day international event and attracts the sport's big names and up to 70,000 spectators every year.
The final stages of the rally were cancelled.