Dublin stabbing: O'Connell Street victim was Peter Donnelly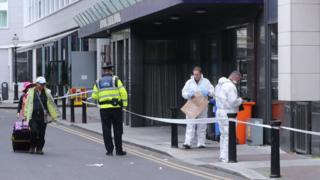 The man who died after being stabbed in O'Connell Street in Dublin city centre was 39-year-old Peter Donnelly who was from Kilkenny.
Mr Donnelly was stabbed at about 01:40 local time on Tuesday close to the General Post Office.
He was taken to hospital but died from his injuries.
RTÉ has reported that he was stabbed several times following an altercation with a man who he had been talking to.
A 28-year-old man was arrested on nearby Marlborough Street.
He was taken to a police station for questioning, but this was suspended while he was taken to hospital for treatment.
A member of An Garda Síochána (Irish police) had observed the two men prior to the altercation and had requested that they be monitored on CCTV.
Following the incident, another officer attempted to render first aid assisted by members of the public.
Gardaí have appealed for for assistance from anyone who witnessed the incident or may have any video footage.
Police said a weapon was recovered and they are gathering CCTV footage as part of the investigation.