Mount Everest: Second Irish climber dies on mountain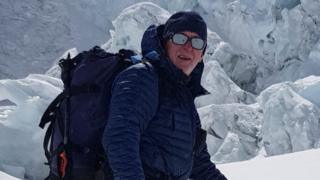 A second Irish climber has died while climbing Mount Everest in little over a week.
He was Kevin Hynes, a father of two, who died during his descent down the mountain.
The 56-year-old passed away in his tent at 7,000 metres (23,000 ft) in the early hours of Friday morning.
Mr Hynes' death comes after university professor Séamus Lawless, went missing on the peak. He is believed to have fallen.
Mr Hynes was originally from Newbridge in County Galway and is survived by his wife Bernadette, daughter Erin and son James.
The Irish Department of Foreign Affairs confirmed it was aware of reports of the death of an Irish citizen on the north slope of Mount Everest on Friday.
A spokesperson for the department added it was standing ready to provide consular assistance.
Family statement
Speaking to Irish state broadcaster RTÉ, the family of Mr Hynes said they are devastated at his death and appreciate the sympathy they have received.
They confirmed he had felt unwell on his way to the summit and turned back.
Mr Hynes, who had lived in London for the past 27 years, previously reached the summit of Everest in April 2018.
Mr Hynes was climbing as part of a group from UK-based climbing company, 360 Expeditions.
In a statement, the company said he had been "one of the strongest and most experienced climbers on our team".
"We thank everyone for your understanding and respect in the light of this tragic event.
"Our heartfelt thoughts and condolences are with all Kevin's family and his friends. He really was a wonderful man and it was a great privilege to have him on our team."
Experienced climber
Paul Devaney, co-founder of Irish Seven Summits, told RTÉ Mr Hynes had an "impressive CV".
"He had climbed a lot of peaks in India. He had been on at least three 8,000 metre (26,240 ft) peaks," he said.
"He'd summited Everest from the Nepal side last year, so he was a pretty experienced climber.
"I think he'd been there last year so he knew the terrain a little bit.
"He was going back from the north side to have a different experience. He was excited about that."
He added the crowds of people attempting to reach the summit would have made the ascent more difficult.
Search called off
Meanwhile, a search for Séamus Lawless, 39, from Bray, County Wicklow, who went missing on Mount Everest on 16 May, has been called off.
He is presumed dead after falling in an area known as the balcony, near the mountain's summit.
Search efforts had faced poor weather in the area in which he fell.
In a statement, his family said "every effort" had been made to locate Mr Lawless.
"The extremes of operating at high altitude and the sheer range of the search area ultimately proved too difficult and based on expert advice we have decided to call off the search rather than risk endangering anyone's life in the treacherous conditions," the family's statement said.
Meanwhile, three other climbers, including two women, died on the mountain on Thursday.
It took the death toll to seven in a week, surpassing the total number for 2018.
It comes amid crowding near the summit as record numbers make the ascent, despite calls to limit the number of climbing permits.