Jordan Davis shot dead after tribute to murdered friend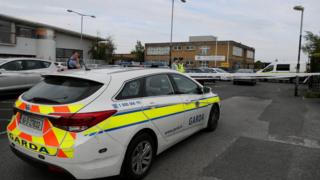 A man was shot dead in Dublin moments after he posted a Facebook tribute to his murdered friend, who had been shot in a separate attack the night before.
Jordan Davis was killed in Darndale within 18 hours of the death of his friend Seán Little, whose body was found near a burning car off the M1.
Gardaí (Irish police) have launched two murder inquiries but said they have not yet found a link between the killings.
However, they appealed to young people not to get involved in the drugs trade.
Several Irish media outlets have reported that both victims were known to gardaí and that a possible drugs motive was suspected in their murders.
Mr Davis, a 22-year-old father of one from Coolock, was pushing his baby son in a pram when he was shot in the head.
It happened in a lane next to Our Lady Immaculate National School at about 16:00 local time on Wednesday.
Moments earlier, he had posted a photograph of himself on Facebook, socialising with Mr Little, with the message: "Rest in paradise you were a gent."
'Gangland vacuum'
Mr Little, who was also 22 and from Coolock, was found dead beside a car that had been set on fire off in Walshstown, near Balbriggan in County Dublin.
The emergency services were called to the scene, which is just off the M1, at about 23:20 local time on Tuesday.
The officer in charge of policing Dublin, Assistant Commissioner Pat Leahy, told a news conference: "We're not making a connection at this point in time.
"We will pursue all avenues of course, that will be part of the investigation as we move forward, but at this point in time we're not making any link between the two killings."
But he made a direct appeal to young people across the Republic of Ireland to stay clear of the illegal drugs trade.
"One of the outcomes of this is that you don't get to live a full life," he said.
"Low-level dealing is enough to have your life taken at a young age."
Mr Leahy agreed with suggestions that a younger generation were getting involved in drug dealing due to a "vacuum" created by the Hutch-Kinahan gang feud, which has cost several lives since 2015.
"It's certainly a possible outcome as we know we have been dealing with a serious feud that has strong international links," he said.
"Lots of the people involved in the top tier have been convicted of murder and attempted murder around that feud and a lot of them have left the country and perhaps left a bit of a void in terms of who's going to continue the trade, so we do see young people getting involved in that vacuum that has been created."
Witness appeals
Mr Davis was reportedly shot after he was approached by a lone gunman on a red mountain bike.
Mr Leahy told journalists that the mountain bike had been seen in the Darndale area in the days and hours preceding the murder and he appealed for more information.
In respect of Mr Little's murder, he said detectives need the public's help as they do not yet know if a car involved in the shooting travelled north or south from the M1.
"If you have a dash cam in your car or if you were out there between 10pm and midnight, please we'd like to hear from you," the officer said.
"Anybody driving north or south on the M1 over that period, we'd like to hear from you, please come forward."
Irish national broadcaster RTÉ reported that Mr Little was an associate of the leader of a Finglas-based organised crime gang involved in a feud with a Blanchardstown drugs gang.
It claimed he also had close links to the Kinahan gang.
John Mooney, the security editor of the Sunday Times, told BBC Radio Ulster: "There are so many feuds under way in the Dublin region and surrounding towns that in some circumstances, not all it should be said, police officers are having huge difficulties containing them."