Brexit: EU stands fully behind Ireland, says Barnier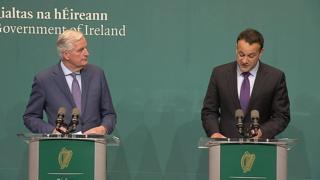 The European Union will "stand fully behind Ireland" regardless of what happens with Brexit, the EU's chief Brexit negotiator has said.
Michel Barnier was speaking in Dublin after talks with Taoiseach (Irish Prime Minister) Leo Varadkar.
A special EU summit will take place on Wednesday, to discuss Theresa May's request for another extension.
The UK is currently scheduled to leave the EU on 12 April, unless a delay is agreed.
Mr Barnier said he was confident "operational solutions" could still be found to manage the Irish border, the sticking point in the talks.
He and Mr Varadkar also discussed planning being undertaken by the Republic of Ireland and European Commission, to manage the Irish border in the event of no deal.
Mr Varadkar said if a no-deal outcome occurred, it would be a "shared challenge" for the Republic of Ireland and EU.
In Westminster, Mrs May has been in talks with Labour to try and find cross-party agreement to pass a deal in Parliament.
She is due to meet German Chancellor Angela Merkel and French President Emmanuel Macron on Tuesday.
Mr Barnier said he hoped for a "positive outcome" to those talks, while Mr Varadkar told the joint press conference: "From Ireland's perspective, we are open to extending the deadline to allow these discussions to continue their course."
Mr Varadkar later said he had spoken to Mrs May in a telephone call on Monday evening and "repeated his openness to an extension of the deadline".
DUP deputy leader Nigel Dodds told the BBC: "If Leo Varadkar and Michel Barnier really did think so much of the Belfast Agreement and peace in Northern Ireland, then they would start to respect the views of unionists and listen to what people in Northern Ireland are actually saying about how they want their relationship going forward."
'No easy task'
On Monday, Mr Barnier also held meetings with the Tánaiste (Irish Deputy Prime Minister) Simon Coveney and other Irish government ministers.
He said the EU's goal was to protect the Good Friday peace agreement, peace on the island of Ireland and the integrity of the EU single market.
"It is not an easy task," he added.
He said even if the UK left the EU without a deal, the EU would "stand fully behind Ireland".
He repeated his assertion that in a no-deal outcome, the EU would not discuss anything further with the UK until the Irish border issue, citizens' rights and a financial settlement had been agreed.
"Throughout all of this, the EU27 will remain united as it has been since day one," said Mr Barnier.
Mr Barnier's visit - his fifth to the Republic of Ireland throughout the Brexit discussions - came after Mr Varadkar held bilateral meetings with French and German leaders last week.
The German Chancellor Angela Merkel said on Thursday that Germany would stand with Ireland "every step of the way" over Brexit.
Following talks with Mr Varadkar at the beginning of April, French President Emmanuel Macron said: "We will never abandon Ireland or the Irish people no matter what happens, because this solidarity is the very purpose of the European project."
Meanwhile Sinn Féin President Mary Lou McDonald and Vice-President Michelle O'Neill are in London holding a series of meetings with senior British politicians on Brexit.
Key dates in the week ahead
Monday: Possible resumption of talks between the government and Labour
Wednesday: Emergency summit of EU leaders to consider UK request for further extension until 30 June, with the option of an earlier Brexit day if a deal can be agreed
Friday: Brexit day, if UK is not granted a further delay