Fishermen 'do not deserve conviction' for Irish waters breach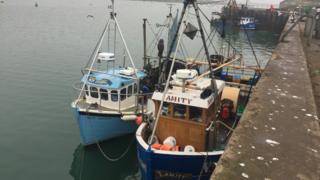 Two Northern Ireland fishermen whose boats were impounded by the Irish Navy on Thursday have appeared in court.
Jack Brown and Kevin Trainor faced charges of breaching fishing regulations. They entered guilty pleas and were given the probation act.
No fine was applied during the hearing on Friday and the probation act means they do not have a conviction.
The judge at Drogheda Court said the men were of "absolute integrity" and did not deserve a conviction.
The men arrived back in their home port of Kilkeel on Friday afternoon and left without making any comment to the media.
The Anglo-North Irish Fish Producers Organisation and Northern Ireland Fish Producers Organisation issued a joint statement to say that the fishermen were "hardworking and respectable" men who wanted to put the incident behind them.
"We hope that this incident will now bring renewed focus on the broader Voisinage issue, and, look forward to news of legislative changes over the coming days and weeks," said the statement.
Their County Down-based vessels, the Amity and the Boy Joseph, were detained by an Irish Fisheries Protection vessel in Dundalk Bay.
It is alleged they were fishing inside the six-mile limit for crabs, lobster and whelks.
Having been released by the court in Drogheda, the crews of the two impounded fishing boats left Clogherhead Harbour for their home port of Kilkeel.
Boats from Northern Ireland had traditionally fished inside the limit until 2016 when a gentlemen's agreement covering it collapsed.
It guaranteed reciprocal access for boats from Northern Ireland and the Republic of Ireland to each other's inshore waters.
It lapsed after an Irish Supreme Court challenge by Irish fishermen concerned about the impact of Northern Ireland-registered boats taking large quantities of seed mussel.
The agreement had been based on an exchange of letters between officials in Dublin and Belfast in 1966.
The Supreme Court ruled that new legislation was needed to formalise the situation.
Irish Agriculture Minister Michael Creed had promised to legislate but the bill remains stuck in the Dail.
It has been claimed there was a reluctance to deal with it as it could form part of wider Brexit fisheries negotiations.
On Friday, Mr Creed told Irish national broadcaster RTÉ that he wanted to get the legislation fast-tracked through the Oireachtas (Irish parliament) by the end of March.
He said that in the context of harmonious relations it was "only right and proper" that the Republic would restore reciprocal arrangements.