Dublin churches to introduce contactless card machines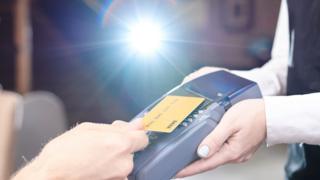 Some Catholic churches in Dublin are set to introduce contactless payment card machines to allow Mass-goers to make financial donations to the church.
The Archdiocese of Dublin is trying out the new technology in a bid to boost its finances which have suffered from falling cash donations in recent years.
Card machines will be installed at the back of a small number of churches.
A representative of the archdiocese told BBC News NI they want to provide parishioners with "options" to donate.
The idea is being piloted by the archdiocese's Office for Financial Development, which was established in 2016 to "ensure a sustainable future funding base" for Dublin's parishes and diocese.
The scheme will be trialled in five churches in the capital, the Times reported.
Traditionally, parishes are largely financed through weekly cash donations during Mass, when a collection plate is passed from pew to pew.
However, Mass attendance figures have been falling in recent decades, as has the Catholic population in the Republic of Ireland as a whole.
In 1981, more than 90% of the population described themselves as Catholics in the national census, whereas the most recent census, carried out in 2016, showed that figure had fallen to 78%.
It is not just demographics which have affected church finances - fewer people are carrying cash these days, meaning that they are less likely to have money to throw into the plate.
It is not the first time the archdiocese has turned to modern banking methods to bolster its depleted coffers.
Dublin parishes already use standing orders for donations known as the Family Offering, which was traditionally collected from Catholic households in envelopes.
Irish broadcaster, RTÉ, reported that archdiocese also plans to "roll out card-based payments in the majority of parishes so people can pay for offerings and pilgrimages as well as sign up for recurring contributions".
The new technology will be introduced alongside the collection plate, which will remain a regular feature of Masses.
A representative of the Office for Financial Development told BBC News NI: "Our efforts are simply to provide parishioners with as many options as possible to make their contributions as the use of cash declines generally."
'Amazed'
Collection points in churches are nothing new, most have a donations box or some form of charity collection at the rear of the building.
But is the sight of a credit card machine inside a place of worship a step too far for some?
BBC News NI canvassed opinion north of the Irish border, beginning in the Diocese of Derry.
Its media liaison representative, Fr Michael Canny, said he could not see the measure being introduced in Derry's churches "any time soon".
"Some time ago, people who don't deal in cash mentioned to me that it would be a good idea to install card machines in churches, for example at the edge of seats.
"I remember being kind of amazed by that suggestion," Fr Canny said.
The Waterside priest added that he could "not see the need" for card machines in churches, adding that there were already "endless ways for people to donate" including by cash and direct debit.
'Cashless society'
His counterpart in the Diocese of Dromore, Fr Feidhlimidh Magennis, said that to his knowledge, the idea had not been discussed by his fellow priests as yet.
However, he said they would "watch the Dublin experiment with interest".
He pointed out that cheques were already being phased out as a form of payment and he could not know what the future might hold in 10 to 15 years' time.
"To what extent people will stop using cash, we don't know, but that would mean you would have to introduce a new facility of some kind," Fr Magennis said.
"I don't think we have reached the stage of a cashless society as yet but it's certainly on the cards, excuse the pun."