Ardee: Murder investigation opened after Louth death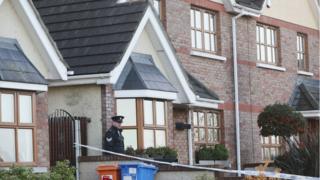 A man has been arrested after a woman was found dead at a house in Ardee, County Louth.
Gardaí (Irish police) discovered the body of Elzbieta Piotrowska at the property in the Clonmore estate shortly after 11:30 local time on Tuesday.
The man, who is 32, was detained in the Ardee area on Tuesday afternoon and is being held at Drogheda Garda Station.
Gardaí said the 57-year-old suffered a very violent death and they have opened a murder investigation.
Irish national broadcaster RTÉ said Mrs Piotrowska, who was originally from Poland, was a mother of two adult children and had lived in Ireland, along with her husband, for 10 years.
Her husband was at work at the time of the killing.
RTÉ also said they understood gardaí have recovered a murder weapon, which is believed to be an axe.