Morocco murders: Tourist killings suspects 'backed IS'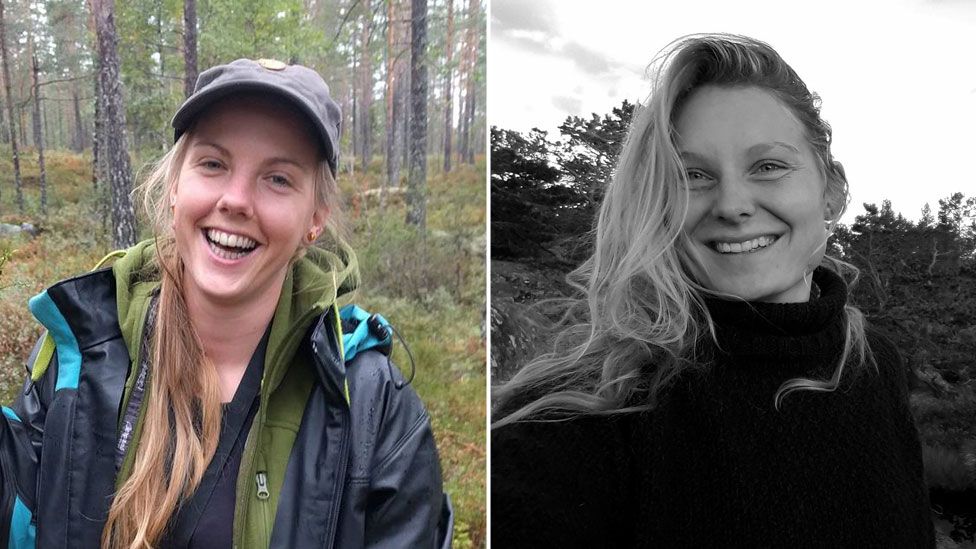 Four men arrested over the murders of two Scandinavian women in southern Morocco had pledged allegiance to the Islamic State group in a video shared on social media, a prosecutor says.
Louisa Vesterager Jespersen, 24, from Denmark, and Maren Ueland, 28, from Norway, were found dead from knife wounds near a popular tourist spot.
The Moroccan prosecutor said the video was recorded before the murders.
In it the suspects had threatened to carry out attacks, he added.
Danish Prime Minister Lars Lokke Rasmussen had earlier said the "unusually bestial" murders were being investigated as a terrorist attack.
Ms Jespersen and Ms Ueland had travelled together to Morocco for a month-long holiday on 9 December, including a trip in the Atlas Mountains.
They had been hiking near Imlil, close to North Africa's highest mountain peak Mount Toubkal - an area popular with hikers and climbers. They were found dead inside the tent they shared last Monday.
On Tuesday police detained a suspect said to belong to a militant group in Marrakesh. Three other suspects were subsequently arrested in the city, the Central Bureau for Judicial Investigations said.
Norwegian Prime Minister Erna Solberg has decried the "brutal and meaningless attack on innocent people", and said she had trust in the Moroccan authorities to find those responsible.
Maren Ueland's mother Irene told public broadcaster NRK that the pair had been studying together at the University of South-Eastern Norway. Both are reported to have been experienced with outdoor activities, and to have prepared well for the hiking trip, which they took without a local guide.
Is there a jihadist threat in Morocco?
Morocco has been largely spared the jihadist violence seen in other countries in North Africa since deadly bombings in Casablanca killed at least 30 people in 2003.
The country enacted stiff anti-terrorism legislation to address the threat from its own nationals returning home after fighting for IS in Syria and Iraq - after an estimated 1,600 Moroccans joined jihadist groups there in 2015
Jihadists of Moroccan origin have also been involved in terrorist attacks in recent years in Belgium and France.
In terms of jihadist presence in Morocco, both Islamic State and its rival al-Qaeda have failed to establish themselves in the country. But this does not rule out the possibility of attacks by sympathisers or operatives who believe it is their duty to act.