Graham Dwyer: What does phone data ruling mean?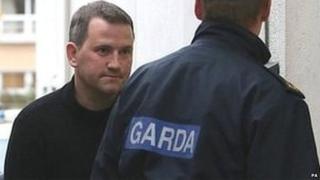 It has been described as "one of the most horrific trials ever heard in Ireland".
In 2015, an Irish architect was found guilty of murdering a vulnerable childcare worker for his own sexual gratification.
But on Thursday, Dwyer won a legal action against the Irish State and the Garda Commissioner over his phone data.
The High Court ruling has concerned many who followed the trial.
Who is Graham Dwyer?
Originally from Bandon in County Cork, the 45-year-old married father was given a life sentence in April 2015 for the murder of Elaine O'Hara.
The 36-year-old's remains were found in the Dublin mountains in September 2013.
In his closing statement, barrister for the state Seán Guerin SC said Dwyer was a "predator" with an eye for the weak.
Why was the trial so controversial?
When the trial began in 2015, a jury of seven men and five women were sworn in by Mr Justice Paul Carney for what was scheduled to be an eight-week trial, with a warning the evidence would not be for the squeamish.
He was right.
Details of Dwyer's sexual preferences were put on centre stage.
A former partner gave evidence that he had brought knives into the bedroom and had pretended to stab her during sex.
Other evidence included:
Emails exchanged with women Dwyer met online, with videos about rape and murder fantasies
Documents found in his hard drive about having sex with a corpse
A fantasy piece entitled Jenny's First Rape
Videos he made in 2007 and 2008 showed Dwyer stabbing O'Hara in the stomach during sex.
Because of their distressing content, Mr Justice Tony Hunt again cleared members of the public from court.
What implicated Dwyer?
In the end, it was mobile phone contacts between Dwyer and O'Hara that implicated the architect.
Mobile phone metadata was an important part of the prosecution case in Dwyer's trial and the ruling could have implications for many other criminal cases and investigations.
A Garda trawl of her iPhone and Macbook recovered hundreds of texts sent from an 083 number registered to a Goroon Caisholm in March 2011 with an address almost identical to the home of Dwyer's sister in Co Tipperary.
What does this mean for the latest ruling?
Gardaí were able to get the mobile correspondence information under 2011 legislation brought in following a European directive.
The legislation obliged service providers to hold on to the data for two years.
However, the directive was declared invalid by the Court of Justice of the European Union in 2014 as it interfered with rights, including the right to privacy, and this position was reinforced by a subsequent court ruling.
This means that the recent High Court ruling allows Dwyer to appeal against his murder conviction.
Could he be successful?
Most experts do not think so.
The judge said on Thursday the ruling would not automatically lead to the quashing of the murder conviction.
In his judgement, Mr Justice O'Connor said that the defendants in the case, the Garda Commissioner and the State, had long been on notice of the defects of the 2011 legislation.
Many see this latest ruling more as a rebuke to the government for failing to rectify a flawed piece of legislation, rather than opening a door for Dwyer.
According to criminal law lecturer TJ McIntyre: "It seems to me likely that more recent convictions could be challenged on this basis."