Andrej Babis: Czech PM denies son was kidnapped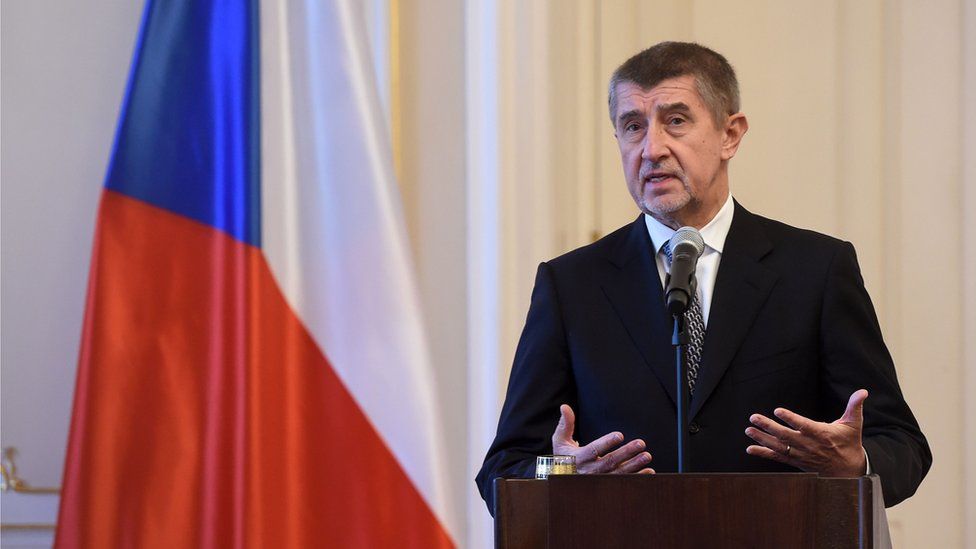 Czech Prime Minister Andrej Babis is facing a potential political crisis after a son was quoted as saying he had been held in Crimea to stop him giving evidence in a fraud case.
Andrej Babis Jr, 35, made the claims after he was traced by a news website to his mother's home in Switzerland.
The billionaire prime minister lost his parliamentary immunity in January after he was charged with subsidy fraud.
He rejects the kidnap claims, alleging that his son is mentally ill.
Condemning "manipulation and outrageous pressure by journalists on criminal authorities", the populist leader said his son was on medication and had to be under observation.
"No-one kidnapped my son. He travelled from the Czech Republic voluntarily. This matter has been investigated by the police, which came to the conclusion that no kidnapping had taken place," he added.
Andrej Babis Jr told investigative reporters from the Seznam news site that he was taken against his will to Russian-annexed Crimea.
His disappearance coincided with a police investigation into allegations that his father had concealed his ownership of a farm and conference centre known as "Stork Nest" (Capi hnizdo in Czech) so that it would qualify for EU small business subsidies.
Andrej Babis senior had said that at the time the funds were obtained, the centre belonged to his adult children, of whom one was Andrej Jr.
According to the website, the prime minister's son said his father wanted him out of the way of the criminal inquiry and that he had been given the choice of "taking an extended holiday" in Crimea or being locked up in a mental home.
He said the husband of a psychiatrist who had treated him in Prague had taken him to Crimea. Neither were available for comment in the Seznam report.
Andrej Babis wrote on Facebook that the facts were clear and that his family was being subjected to a witch-hunt. His son was mentally ill and his daughter suffered from bipolar disorder, he added.
The businessman steered his centrist ANO party to election victory in October 2017 but his minority government resigned in January after losing a vote of confidence. He has run a revived minority government with the Social Democrats since June.
As opposition parties called on the prime minister to step down, the junior coalition partner urged him to provide an explanation of the latest allegations.