Eamon Ó Cuív sacked over NI election 'launch'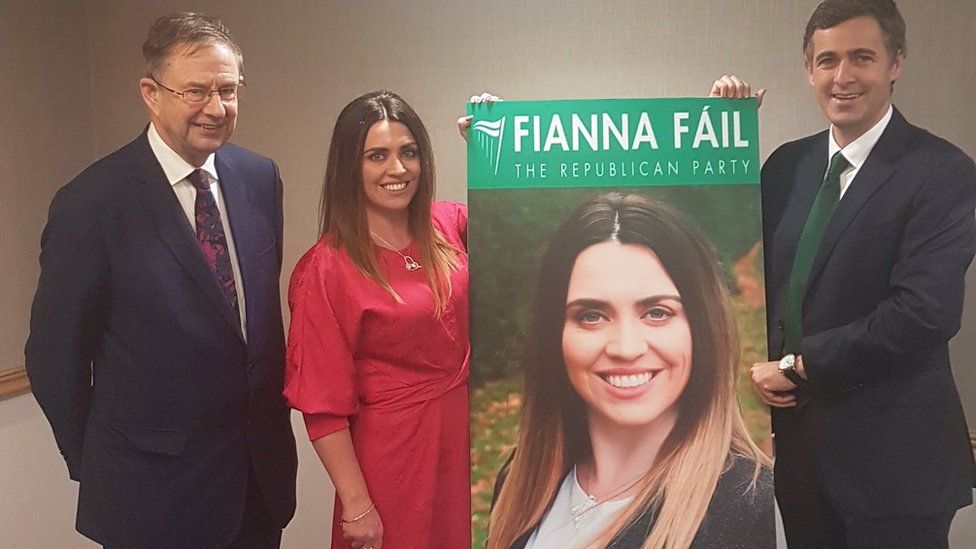 Fianna Fáil politician Éamon Ó Cuív has been sacked from the party's front bench in the Dáil (Irish parliament).
Mr Ó Cuív is grandson of former Irish president and founder of Fianna Fáil, Éamon de Valera.
On Tuesday, senator Mark Daly was sacked as the party's deputy Seanad (Irish senate) leader.
Mr Daly was also involved in the unauthorised launch.
Mr Ó Cuív met with Fianna Fáil party leader Micheál Martin on Wednesday evening.
In a statement, Fianna Fáil said that during the meeting Mr Ó Cuív made it clear he was aware in advance of plans to hold an unauthorised launch of a candidate and agreed to participate the event.
"In light of this information, regretfully, Deputy Ó Cuív's continued membership of the party's front bench is no longer tenable," the party said.
It added that Mr Ó Cuív's portfolio responsibilities for regional development, rural affairs and the Gaeltacht will be reassigned.
Tagraím do cinneadh M Martin mé a bhaint den brines tosaigh. Glacaim gur ceist dó sin amháin a roghnú cé tá ar bhinse tosaigh Fhianna Fáil. Ní bheidh mé ag déanamh aon ráiteas breise faoin scéal agus ba cheart do na meáin aon cheist faoin ábhar seo a chur ar @fiannafailparty

— Éamon Ó Cuív (@eamonocuiv) November 8, 2018
In a tweet, Mr Ó Cuív said that he will not be commenting on the decision to remove him from the frontbench and that any questions should be directed to the party.
Mr Ó Cuív is the son of Emer de Valera, who was the last surviving daughter of Éamon de Valera,
He was first elected to the Dáil in 1992.
Sorcha McAnespy is said to be contesting next May's Fermanagh and Omagh District Council election as a Fianna Fáil candidate.
But Fianna Fáil said it had made "no decision" on contesting the election.
Fianna Fáil headquarters said it was in talks with the SDLP.
Ms McAnespy, a member of Fianna Fáil's national executive currently sits on the council.
She was previously a Sinn Féin councillor and secured a place on the Fianna Fáil national executive last year.
Fianna Fáil is currently the main opposition party in the Republic of Ireland and is expected to unveil a number of other candidates.
Established in 1926, Fianna Fáil has long claimed to be Ireland's true republican party.
It has often faced questions on why it would not contest elections on a 32-county basis.
Its eventual decision marks a significant move in the political landscape on the island and comes when the debate over Irish unity has gained renewed traction due to Brexit.