Matteo Salvini brushes off viral break-up with celebrity girlfriend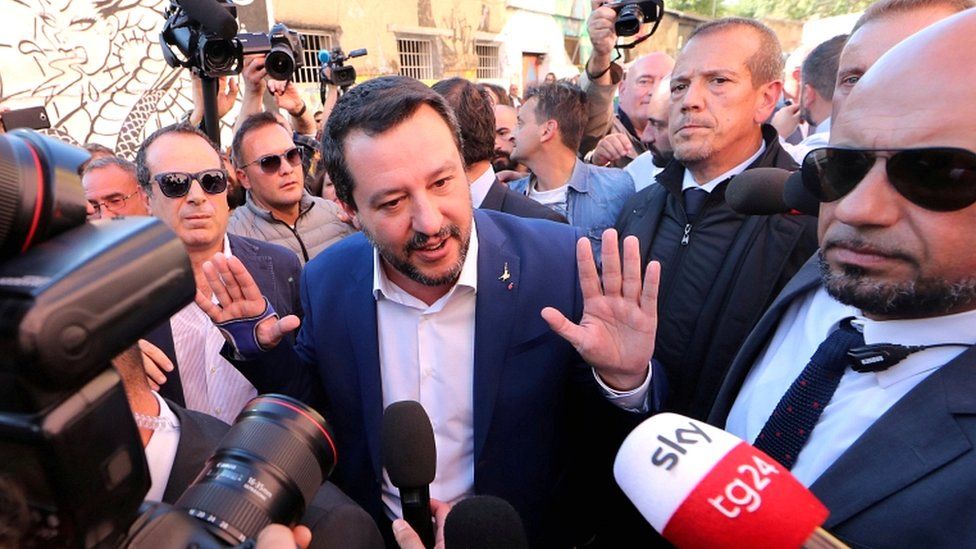 Italy's populist deputy PM Matteo Salvini has brushed off news of his break-up publicised by his former girlfriend on Instagram on Monday.
Elisa Isoardi, a TV host who had been in a relationship with Mr Salvini for three years, made the announcement as he flew to Ghana to discuss migrants.
He later dismissed it, saying Italians "did not care".
He was named interior and deputy prime minister in the new populist coalition government earlier this year.
Ms Isoardi's post on Instagram features an intimate selfie of the couple.
Quoting a line from contemporary poet Gio Evan, Ms Isoardi writes: "It's not what we have given each that I miss, but what we still had to give to each other."
She adds: "With immense respect for the true love that was, thank you Matteo."
The relationship with Mr Salvini ended two and a half months ago, but Ms Isoardi, who hosts a cookery show on Italian television, had decided to go public now, she told Chi magazine in an interview.
"Why did we break up? We were far apart due to the commitments we both have," she said.
Mr Salvini, who is leader of the right-wing anti-migrant League, was on his way to Ghana to discuss the repatriation of migrants to Italy at the time Ms Isoardi posted her announcement.
Later on Facebook, he wrote: "Busy working day in Africa on the immigration and security front, but the phone from Italy is ringing about other matters."
He himself is an avid user of social media, sharing details of his personal life with his 3.3 million Facebook followers and 900,000 followers on Twitter and Instagram.