Irish Labour Party 'will step in' if SDLP merge with Fianna Fáil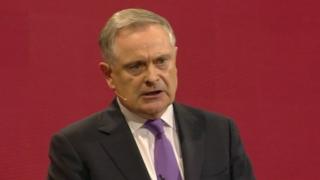 The Irish Labour Party will step in to ensure a "pluralist option" is available to NI voters if the SDLP and Fianna Fáil merge, its leader has said.
Brendan Howlin was speaking at his party's annual conference on Saturday.
Fianna Fáil is currently in talks with the SDLP about a possible merger although some in the SDLP have spoken out against such a move.
Assembly member Claire Hanna said she would not join Fianna Fáil and a merger would not solve the SDLP's problems.
Mr Howlin said Labour wanted a "New Ireland" with everyone on the island of Ireland having a decent standard of living.
"It's our promise to Northern unionists too," he added.
He also promised to recall the New Ireland Forum, echoing the call of SDLP leader Colum Eastwood.
The original New Ireland Forum was a cross-border body set up by the Irish government in 1983 to gather a range of views on how to end the Troubles. Its members were Irish nationalists.
"And let me say this too. If some within the SDLP do merge with Fianna Fáil, Labour and others will step in," Mr Howlin said.
"We will ensure a pluralist option in the Labour tradition is available for voters in Northern Ireland."
Fianna Fáil confirmed in October that its talks with the SDLP were continuing in the wake of a public disagreement over running a candidate in Northern Ireland.
South Belfast assembly member Claire Hanna told BBC One Northern Ireland's The View programme that she would not join Fianna Fáil.
"It would be remiss of me to say that it is not a politics that appeals to me and it's not a party I would personally join," she said.
The SDLP were wiped out in the last year's general election after former party leaders Mark Durkan, Margaret Ritchie and Alasdair McDonnell were toppled in Foyle, South Down and Belfast South.
Its share of the vote held in the 2017 Northern Ireland Assembly election but has been falling since the 2003 election.
The Irish Labour Party won seven seats in Ireland's general election in 2016 with 6.6% of the vote - a 12.8% drop since the 2011 election.