Western Building Systems: Irish hospital buildings to be examined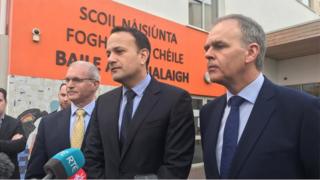 Irish hospital units built by a County Tyrone-based firm will be examined to make sure they are structurally sound, the Irish prime minister has said.
Taoiseach Leo Varadkar said that initial checks showed the buildings were unaffected by structural issues.
His comments come after two schools built in Dublin by Western Building Systems (WBS) were closed.
The firm said that the buildings were subject to inspections and certified as meeting compliance standards.
Mr Varadkar said initial assessments had been carried out at Beaumont Hospital in Dublin and some other health buildings.
The Health Service Executive (HSE) said it is working to establish a list of health facilities that involved WBS in their construction, Irish broadcaster RTÉ has reported.
A spokesperson for WBS said it was involved in a number of health projects that were all subject to regulations and a certification process.
The spokesperson added it was not aware of any issues or health buildings that are being examined.
More than 40 schools built by the company are being assessed for problems and three of them have already closed or partly closed because of safety concerns.
Northern Ireland's Department of Education told BBC News NI on Wednesday that it is "reviewing" buildings built by WBS.
The schools that have been closed in Dublin - Tyrrelstown Educate Together and St Luke's - were visited by Mr Varadkar and Irish Education Minister Joe McHugh on Thursday.
Another school, Ardgillan Community College, is also partly closed after significant structural issues were found last Friday.