Dublin rejects Brexit 'scaremongering'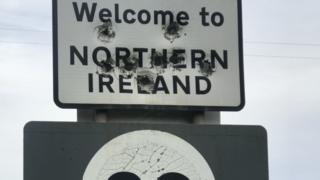 The Irish Foreign Minister Simon Coveney has rejected claims of "scaremongering" after concerns were voiced about a return to violence in the event of a hard border after Brexit.
On Thursday the taoiseach (Irish prime minister) said the fears were "very real".
Leo Varadkar said he wanted to ensure other leaders knew his government was not "in any way exaggerating".
DUP politicians criticised his remarks.
However, on Friday Mr Coveney said Mr Varadakar's comments were warranted and the taoiseach was "dealing in facts".
"We are trying to protect a very precious peace and normality on the island of Ireland," he said.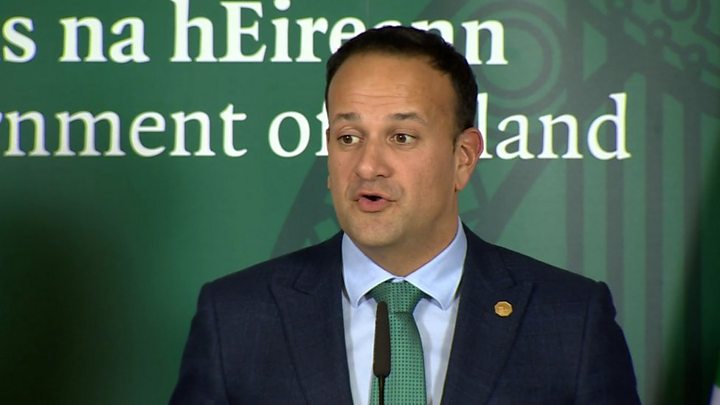 "If you speak to families living in the border area they will talk in very emotive terms about their fears of the re-emergence of that border infrastructure and it's important to be honest about that.
"It doesn't suit some people's political narrative.
"It certainly doesn't suit people who advocate for Brexit because this is very awkward and difficult to deal with but it's the truth," he added.
Mr Coveney said he believed a no deal outcome was still very unlikely.
In the event of a no deal scenario, he added that there were no physical contingency plans for border infrastructure as it would not be accepted.
"I'm not going to create the impression that somehow by accident we're going to fall into a situation of being forced to reintroduce border infrastructure" he said.
"I trust the British prime minister in terms of her commitments - it has been made in writing," he added.
The taoiseach also claimed Brexit was preventing a return to power sharing in Northern Ireland.
Mr Varadkar said he took a copy of The Irish Times to dinner with the leaders to demonstrate his point about a hard border.
Wednesday's edition of the paper featured a front page interview with the daughter of a man killed in an IRA bombing at a customs centre.
The Irish PM said: "I just wanted to make sure that there was no sense in the room that in any way anyone in Ireland, or in the Irish government, was exaggerating the risk of a return to violence in Ireland."
Responding to his comments, DUP MP Sammy Wilson hit out at his "use of a victim of the IRA," describing it as "scraping the bottom of the barrel".
Mr Wilson accused Mr Varadkar of stirring up "false fears about barriers along the border".
"His behaviour is despicable, low and rotten," he added.
DUP MP Emma Little-Pengelly tweeted: "Foolish and dangerous talk - common sense must prevail here.
"The hardening of the border during the Troubles was a result of security issues due to paramilitary violence - not customs, tariffs etc."
In her post-summit press conference Theresa May said the idea of having the option to extend the transition period could be "a further solution" to the search for a "backstop" to ensure no hard border.
Northern Ireland's devolved government at Stormont collapsed in January 2017 following a bitter row over a flawed green energy scheme and attempts to restore it have stalled.
Sinn Féin leader May Lou McDonald said there could be no excuse "for a return to conflict under any circumstances or provocation".
She added: "We cannot take peace and progress for granted is it something that constantly needs care and nurturing."
Uncertainty
Mr Varadkar said: "We have gone now two years without a functioning executive and assembly in Northern Ireland.
"The two major parties have been unable to come together to form a coalition government which they had been able to do for most of the past 20 years".
"We can see the uncertainty around Brexit is already having an affect, if we are to have a hard Brexit imagine the effects that could potentially follow".
On Friday, European Union chief Brexit negotiator Michel Barnier said a deal with the United Kingdom was 90% done, although there was still a chance no accord would be reached due to ongoing stumbling blocks over the Irish border.
Mr Barnier told France Inter radio: ."Ninety percent of the accord on the table has been agreed with Britain.
"I'm convinced a deal is necessary, I'm still not sure we'll get one."