Blasphemy, Stephen Fry and referendum in Ireland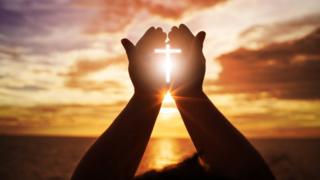 In October, the Republic of Ireland will not only decide on its next President, it will also decide whether to scrap its laws on blasphemy.
It is the second referendum this year to strip away another law in its constitution.
In May, the country voted overwhelmingly to change the constitution to liberalise abortion laws.
Four months later, voters are being asked to remove a reference to blasphemy from the Constitution.
Is blasphemy illegal in Ireland?
Yes.
The Irish constitution says the publication or utterance of "blasphemous, seditious, or indecent matter is an offence which shall be punishable in accordance with law".
Assistant professor of law at Trinity College Dublin, David Kenny explains that although blasphemy was constitutionally illegal since 1937, only since the 2009 Defamation Act was blasphemy defined in law.
To be convicted of blasphemy, the court must prove that what is said or published is grossly abusive or insulting, causing outrage to a religion and that the person or publisher intended to cause outrage.
If found guilty, you could face a €25,000 fine. (£22k)
Where does Stephen Fry come in to this?
Stephen Fry was interviewed on the RTÉ programme 'The meaning of life' in 2015.
When asked what he would say if he ever confronted god in an afterlife, he said: "Why should I respect a capricious, mean-minded, stupid god who creates a world so full of injustice and pain?"
"The god that created this universe, if it was created by a god, is quite clearly a maniac, utter maniac, totally selfish."
A member of the public complained to gardaí (Irish police) about Mr Fry's comments.
Gardaí subsequently carried out an investigation under the 2009 blasphemy laws, but later dropped the investigation.
Has anyone been convicted of blasphemy in Ireland?
Not since 1703 (pre-dating Irish independence).
According to court documents, in 1703 Thomas Emlyn, a Unitarian pastor in Dublin, was convicted of blasphemy, fined £1,000 and sentenced to one year's imprisonment.
Emlyn published a book arguing that Jesus Christ was not the equal of God the Father.
The book caused considerable outrage.
Have there been many prosecutions for blasphemy in Ireland?
The last known prosecution was in 1855 (again pre-dating Irish independence).
Vladimir Petcherine was a redemptorist priest in Kingstown (now called Dún Laoghaire).
He asked people to collect "evil" literature so he could burn the books on a bonfire.
Unknown to Fr Petcherine, a bible was among the books. He was subsequently prosecuted for blasphemy for burning the bible.
Yet, the court found that Fr Petcherine was not guilty as he did not intend to burn the bible.
In 1995, the Sunday Independent newspaper printed a cartoon which depicted three government ministers refusing communion from a priest.
The cartoon was published two days after a controversial referendum on divorce.
Mr Corway, a member of the public, was offended by the cartoon and sought a private prosecution against the newspaper for blasphemy.
But, Mr Kenny explained that in 1999 the supreme court held that there was "no sufficiently clear offence of blasphemy in law that the paper could be convicted of and the case couldn't go ahead".
The problem was that while blasphemy was prohibited by the constitution, there was no legislation that defined the offence.
Did someone really walk the length of Ireland in protest against blasphemy laws?
Yes. In 2010, Paul Gill trekked 625km from Mizen Head in Cork to Malin Head in Donegal.
He was protesting against new blasphemy laws in the 2009 Defamation Act.
Why hold a referendum now?
In 2012, a constitutional convention was established to go through the 1937 constitution and make recommendations for changes.
In 2014, it published its report. Among its recommendations was to hold a referendum on whether to remove blasphemy from the constitution.
Is the referendum campaign hotly contested?
There are no clear official campaign groups, however some bodies have expressed their views.
Atheist Ireland is advocating for a yes vote and both the Catholic Church and the Church of Ireland believe the laws are "obsolete".
Minister for Justice Charlie Flanagan was campaigning for a yes vote in Dublin on Thursday.
The referendum is not without its critics.
Senator Ronan Mullen said the referendum is "entirely unnecessary and it ignores the legal historical context" of the constitution.
He added that the proposal to repeal "does nothing to protect or promote free speech" and that the cost of running the referendum is a waste of taxpayers' money.
Ali Selim from the Islamic Cultural Centre of Ireland said the inclusion of blasphemy in the constitution protects "the cohesiveness" of communities in Ireland and guarantees their rights and freedoms.
Will people come out to vote?
The question on blasphemy hasn't tapped into any national feeling like the same-sex marriage and abortion referendums did.
Theresa Reidy is a political scientist at University College Cork, she says it is "fairly likely" that the referendum will pass, but added there "isn't a huge clamour to have it removed or kept in".
She also points out that blasphemy doesn't impact people directly like the referendums on same-sex marriage and abortion.
What happens if passes?
The reference to blasphemy will be removed from the constitution and the government will amend the Defamation Act to remove blasphemy from legislation.
But what about rights for religious freedoms?
David Kenny explains that even if blasphemy is removed from the constitution religious freedoms will remain protected under other laws.
What happens if it fails?
Blasphemy will remain as an offence in the constitution and in legislation.