Hélène Pastor murder: Polish son-in-law sentenced to life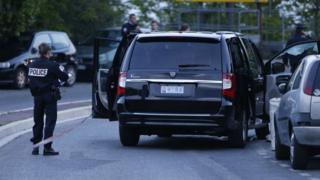 A Polish diplomat to Monaco has been found guilty of ordering the murder of his billionaire mother-in-law and sentenced to life in prison.
Wojciech Janowski shocked the court with a tearful last-minute confession, after years of denying any involvement in the 2014 mafia-style hit.
An unmoved court found him guilty of murdering 77-year-old Hélène Pastor for her inheritance, along with her driver.
Both the gunman and the lookout were also handed life sentences.
Janowski was Poland's honorary consul to Monaco at the time. He was found to have organised the assassination in the hopes of claiming some of the inheritance his common-law partner, Sylvia Ratkowski, stood to gain from her mother's death.
He had asked his sports coach Pascal Dauriac - sentenced to 30 years - to find him a hitman for the job. Samine Aïd Ahmed acted as the gunman and Al Haïr Hamadi was his accomplice. Four other defendants were given sentences of up to 15 years each.
A trail of evidence left by the shooting in a public street in broad daylight quickly led investigators to the plotters, and back to Janowski.
What did Janowski say?
Janowski had long insisted on his innocence. But on Tuesday, his lawyer Éric Dupond-Moretti stood up in court and announced the confession.
"These words which you wanted to hear from him come from my mouth. He tried to say these words, he wanted to say them but he couldn't," he said with Mr Janowski crying beside him.
In court, his lawyers argued that he had acted to protect his partner from her abusive mother - but the prosecution argued his motive was always financial, having uncovered that Janowski's business ventures were on the verge of collapse.
To add to his woes, Sylvia was diagnosed with cancer in 2012. Hélène Pastor provided her son and daughter with a monthly stipend of €500,000, but this would have dried up if her daughter had died.
Janowski also claimed he had never ordered the murder of the driver - but the French court found him guilty in both deaths.
Who was Hélène Pastor?
The shooting of Pastor and her chauffeur in Nice shook the principality of Monaco.
Her family was known as second in importance only to the royal Grimaldi family. She was a descendant of Italian stonemason Jean-Baptiste Pastor, who arrived in Monaco in 1880.
By the 1930s he and his son Gildo had begun amassing a business empire, building apartment buildings and collecting rent. In 1966 Prince Rainier gave Gildo permission to build high-rise properties along the seafront. Instead of selling the properties, the family rented them out.
Hélène Pastor was the last of Gildo's three children and had a son and daughter through two marriages. The family's fortune was spread across several companies and has been variously estimated at between €12bn (£11bn; $14bn) and more than €20bn.
By the time of her death, the Pastor family was said to control 15% of Monaco's housing stock.
How was she killed?
It was shortly after 19:00 local time (17:00 GMT) on 6 May 2014 as Hélène Pastor left L'Archet hospital in Nice that she and her chauffeur, Mohamed Darouich, were ambushed.
She had been visiting her son Gildo Pallanca-Pastor, who had suffered a stroke, when a gunman opened fire with a sawn-off shotgun.
Darouich died of his injuries four days later but Pastor only succumbed to her wounds on 21 May. In the days before her death she was able to give investigators a description of her attackers and had intended to provide further evidence.
"I'm afraid, I want to see you again because I have more to tell," she was quoted as saying.
Police traced some 3.5m phone calls and within weeks had made several arrests. They concluded that the plot had originated with Mr Janowski, who then enlisted his fitness coach Pascal Dauriac, who in turn used his brother-in-law Abdelkader Belkhatir to find potential contract killers.
Mr Dauriac claims his employer ordered Pastor's driver to be killed and her purse stolen to make the incident look like a robbery.
Two suspects from Marseille alleged to have carried out the killing were tracked down through security cameras, mobile phones and DNA found on a bottle of shower gel left behind in a hotel room.
The alleged contract was worth €140,000, police said.
How did the trial unfold?
Mr Janowski initially admitted his role but then retracted his confession.
His partner Sylvia Ratkowski was initially questioned by police before being ruled out of the inquiry. She had been with Mr Janowski for 28 years and the couple had a daughter. She survived the cancer and attended the start of her ex-partner's trial.
Prosecutors said they had traced significant financial transactions in Mr Janowski's accounts in the months before the murders.
The murder was initially linked to organised crime before prosecutors began to suspect Hélène Pastor's son-in-law.
He had claimed his confession in 2014 stemmed from difficulties in understanding French, and told a local newspaper earlier this year from prison that everything had been done to make him look guilty.
He maintained his innocence until the surprise confession late in his trial.
Pastor's son Gildo Pallanca-Pastor - and brother to Sylvia Ratkowski - called the life imprisonment an "exemplary sentence."
"I was also convinced of Wojciech Janowski's guilt," he told AFP, and added that he was glad jurors had not been "duped" by the tearful confession at the last moment.