Berlin's view of the 'Brexit breakdown'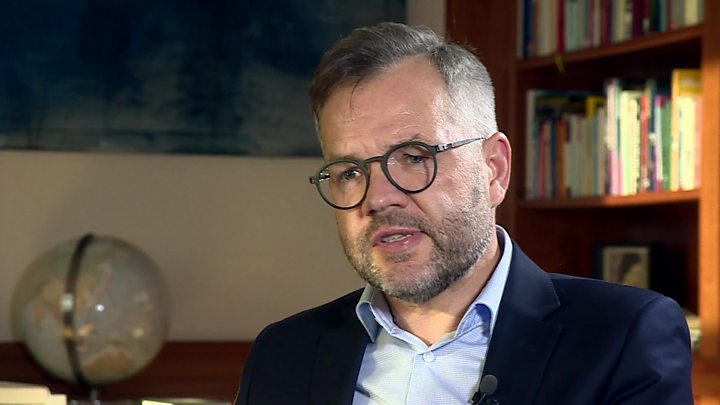 Compared to the searing heat of Westminster politics, Berlin, like Brussels, is choosing to appear rather more laid-back and breezy when talking about the current impasse in Brexit talks.
Brexit negotiators haven't gone off in a huff (so the narrative goes) but rather into separate huddles to figure out if anyone has room for manoeuvre on the crucial Irish border issue.
Time left for negotiations may be running out but there is still reason for optimism, I'm repeatedly told. Some EU diplomats even suggest the European Parliament could vote on a Brexit deal as late as March if necessary.
Now, I don't know about you. But when someone looks at me rather too earnestly in the eye and tells me not to panic, my heart rate tends to increase rapidly and voilà, with perfect timing and characteristic deadpan understatement, Angela Merkel announced on Monday that sealing a divorce deal with the UK now indeed "looks a bit more difficult again".
Um. Yes. It does. And underneath the (attempt at a) cool, calm veneer, the EU is certainly concerned. President of the European Council Donald Tusk admitted yesterday that the possibility of the UK leaving the EU without a deal in place is more likely now than ever before.
This is why technical Brexit negotiators received orders to exit stage right on Sunday. Political decision-makers will dominate centre stage for the rest of the week.
Theresa May meets Chancellor Merkel and other EU leaders for dinner on Wednesday night. Angela Merkel will at least be partially distracted by her own political upheaval at home but everyone including Frau Merkel will be praying this encounter with Theresa May goes rather more smoothly than their last meeting a few weeks ago in Salzburg. The EU's intended main message will be: We are friends, not enemies of the UK and we also want to strike a Brexit deal this autumn.
Though not at any price.
EU leaders are keenly aware of the political pressure the prime minister is under at home. On a personal level, they are sympathetic but when it comes to the Brexit crunch, Germany's Europe Minister Michael Roth told me the EU would not allow itself to be "blackmailed" into making concessions.
Whether over the Irish border or the single market, he insisted, EU leaders would put the interest of European citizens first. That was their clear priority ahead of finalising a Brexit deal with the UK.
When I challenged him, Mr Roth denied that Germany was taking a hard line in Brexit negotiations. Along with France, he said Germany wished for a close relationship with the UK in the future, working together in trade and in security terms but he also very much mirrored the frustration you find in political circles across the EU.
He said the UK seemed to find it hard to accept this but the EU could not allow Britain to enjoy the best of both worlds: EU club membership while being a free agent on the outside. He said this had nothing to do with wanting to punish the UK but why, he asked, would the EU want to offer the UK an advantage over its own member states?
Mr Roth also warned the UK not to wait around, expecting the EU to "cave in" over the Irish backstop (that guarantee to avoid a hard border between Northern Ireland and the Republic of Ireland). He said all 27 EU countries stood united behind member state Ireland. Not one nation, he said, was pushing for more concessions to made to the UK over the issue.
When I suggested that Brexit impasses or delays might sometimes be a bit of a show of drama to help both sides and Theresa May in particular, Germany's Europe minister told me there was always an element of theatre in negotiations. But, he added deliberately, no-one saw Brexit as a game. It was a lose-lose situation, he said, that Europe never wanted but that it nonetheless was trying to make the best out of.
Somehow I'm not convinced everyone in the UK would agree.