French watchdog calls for ban on tanning beds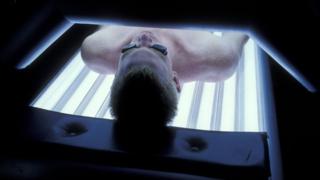 France's health watchdog says the risk of cancer from sunlamps and sunbeds is proven and authorities should act to stop people being exposed to artificial ultraviolet rays.
Brazil and Australia have already banned sunbeds commercially, and France is one of a number of countries that have already limited their use.
But now the Anses watchdog says France should go further and impose a ban.
Sunbeds are linked to 43% of melanoma cases among France's young, it says.
Although less common than other skin cancers, malignant melanoma is the major cause of death and more common among people with a pale complexion.
"Waiting is no longer an option," says Olivier Merckel of Anses. "We know today that skin ageing is four times faster from artificial UV sessions than from the sun."
Why a ban?
France, in common with several countries including the UK and US, already has a ban on under-18s using tanning sunbeds, but the watchdog says that is not enough.
Under-18s are still using the beds to get a tan regardless, it warns.
The risk of developing melanoma is 59% higher for people who used artificial UV before the age of 35.
In 2015, 14,325 cases from melanoma were recorded in France and of those 382 were linked to sunbeds.
What is the experience elsewhere?
Brazil was first to ban sunbeds in 2009, with the only exception if doctors prescribed their use for health reasons. The same year the World Health Organization (WHO) classified exposure to UV sunlamps, sunbeds and tanning booths as carcinogenic to humans.
Australia followed in 2013.
Annual rates of malignant melanoma in Australia were 10 times the rate in Europe for women, and more than 20 times for men.
Last year the WHO said countries should either ban sunbeds outright or limit their use.
In the UK, health authorities have issued guidance for who should avoid UV tanning equipment, including people with fair or sensitive skin.
Will France go ahead with ban?
Tanning salons are in decline in France because of the known health risks. But a complete ban on tanning booths would affect thousands of jobs.
Some 22,000 workers are employed in the industry, according to the French union of tanning booth workers in a market worth €231m (£200m; $265m).
The French government has for years come under pressure impose a ban from the upper house of parliament and medical groups but has so far avoided taking action.
The health ministry was yet to respond to the report on Wednesday.