'Cross-border element' to Irish gangland feud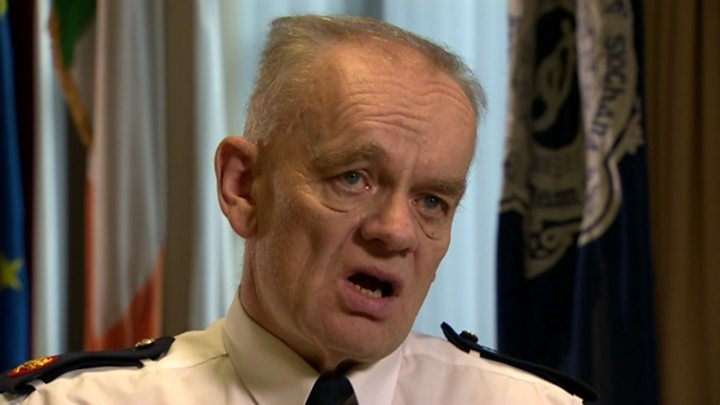 The biggest gangland feud in Ireland has a very significant cross-border dimension, according to gardaí (Irish police).
Eighteen people are believed to have been killed to date in the fall-out between two Dublin gangs - the Kinahans and Hutches.
One man was killed at a boxing weigh-in at the Regency hotel in Dublin in 2016.
Gardaí have been leading a big security clampdown and told the BBC they have seized some high powered weapons.
'Military grade weapons'
John O'Driscoll, an assistant Garda commissioner responsible for special crime operations, said they have made "some very significant arrests".
"We have seized, or at least the Garda National Drugs and Organised Crime Bureau alone, has seized about 87 weapons," he said.
"But, it's the calibre of those weapons, many of them are military grade weapons, I think that is particularly important."
The assistant commissioner also told BBC News NI about the feud's cross-border dimension.
Mr O'Driscoll said one such case is currently before the courts, but has yet to be heard.
"It involves a person who arrived in Ireland from another jurisdiction and was within hours arrested and subsequently charged with an attempt to murder, and the person that it's alleged that he attempted to murder was at that time resident in Northern Ireland," he said.
"So, he remains a suspect until such time as the proceedings conclude.
"But that is an example of where there is a very significant cross-border dimension to the organised crime problem that we are experiencing currently."
'Criminal proceedings outside jurisdiction'
Gardaí said they are getting help from the PSNI to monitor gang members or associates who are known to cross the border.
They are also getting help from other police forces around the world.
Some of the gangsters involved in the feud live abroad.
Mr O'Driscoll is predicting imminent success against the criminals, at home and abroad.
"Very often the action can be taken in other jurisdictions and I would predict that it will be a mixture of both, and that in the coming months you will see an increased number of people, that we targeted, being the subject of criminal proceedings outside of this jurisdiction as well as within this jurisdiction," he said.
You can see more on this story on BBC Newsline at 18:30 BST