Hang White People: French rap song suspended from YouTube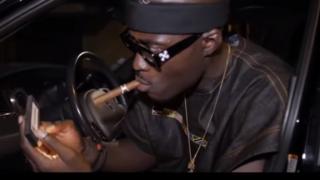 A French rap music video has been suspended from YouTube for violating the company's terms of service.
Nick Conrad's Hang White People called for white babies to be killed and their parents hanged.
Anti-racism groups called it an incitement to violence and racial hatred, and the lyrics have sparked outrage online.
The Paris prosecutor has launched an inquiry into the music video, according to French broadcaster BFMTV.
The nine-minute video, first published on YouTube on 17 September, depicts a white man being shot and tortured by the rapper and an accomplice.
He is forced to bite the pavement and is kicked in the head before being hanged.
'Kill white babies'
The scenes are said to be a reference to a scene in the film American History X, where white neo-Nazis subjected a black man to similar violent acts.
One section of the lyrics reads: "I go into creches and kill white babies. Catch them quickly and hang their parents."
In a tweet, French Interior Minister, Gerard Collomb said he condemned the video "unreservedly".
French anti-racism group LICRA (International League against Racism and Anti-Semitism) said it would be taking legal action.
"The incitement to murder in Nick Conrad's video is despicable and unbelievably violent", it said.
Conrad describes himself as a "black artist, and a proud, sophisticated Parisian".
His video was tweeted on 22 September by Dieudonne M'bala M'bala, a controversial French comedian given a jail sentence for anti-Semitism.