Ex-Dragons' Den judge Peter Casey to stand for Irish president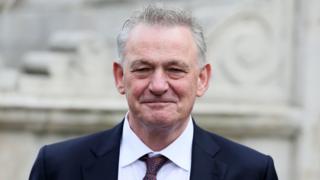 A former judge on Ireland's version of reality TV show Dragons' Den has secured his place on the ballot for the upcoming Irish presidential election.
Peter Casey is the third Dragons' Den entrepreneur, along with Gavin Duffy and Sean Gallagher, on the ballot.
They will be joined by Sinn Féin's Liadh Ní Riada, Senator Joan Freeman and President Michael D Higgins, who is seeking a second term.
The election is due to take place on 26 October.
Mr Casey is a US-based businessman who is originally from Londonderry.
After receiving the support of four local authorities, he defeated Irish journalist Gemma O'Doherty to stand for presidency.
Limerick, Tipperary, Kerry and Claire councils all backed him to contest the election.
In order to formally contest the election, candidates need the backing of either 20 members of the Irish parliament or four local authorities.
A sitting president can nominate themselves to seek a second term.
The closing date for nominations is 26 September.