French jobseeker tells Macron to help him find work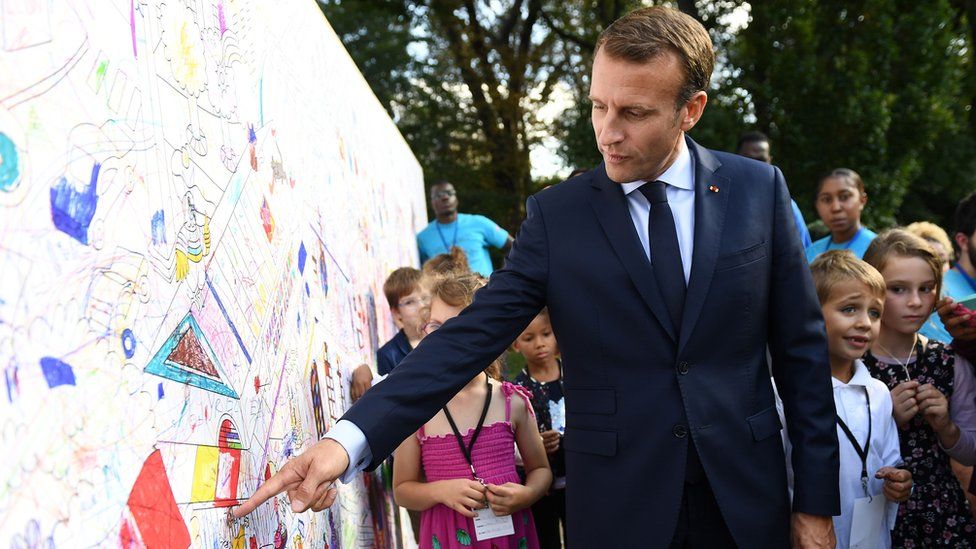 An unemployed gardener has hit back at Emmanuel Macron after the French president told him he could find him a job "just by crossing the road".
Jonathan Jahan, whose exchange with the president on his quest for a job went viral at the weekend, said Mr Macron's words had stuck in his throat.
When he said he had sent out letters and CVs, Mr Macron said there were jobs to be found in hotels and construction.
"I felt like telling him, in that case come with me and look," he said.
"I've got no problem with that. If there is work, he should come with me up to Montparnasse," he added, referring to an area of the capital teeming with bars and restaurants.
Speaking on French radio on Tuesday, Mr Jahan, 25, said he was disappointed by Mr Macron's attitude. He repeated a jibe by the president's opponents that he came across as out-of-touch.
"He's totally wide of the mark, he's still in the land of the Care Bears," he complained, referring to a children's animated TV series. "He's president but he doesn't bother with people who are out of work."
Why Macron's exchange went viral
Mr Jahan's comments on Europe 1 radio came after the president told him finding a job in Paris was simple, if he went to Montparnasse - triggering a wave of anti-Macron mockery.
"There are loads of jobs, go on," he said. "Hotels, cafes, restaurants - I'll find you one just by crossing the road!"
His remarks were ridiculed partly because they chimed with earlier controversial comments in which he had suggested that French people hated reform or were "Gauls" resistant to change.
His popularity has fallen, and two ministers have left their jobs in the past month. In a new twist on Tuesday, one of his closest colleagues, Interior Minister Gérard Collomb, said he was leaving the post in 2019 to run for his former job as Mayor of Lyon.
President Macron has also struggled to dent the high rate of unemployment. When he came to power in 2017 he pledged to bring the jobless rate down from 9.4% to 7% by 2022. But the number is still stubbornly high at 9.1%, with 3.46 million people out of work.
In the gardening sector in particular, some 5,000 jobs have gone in the past seven years.
What next for the gardener?
In his exchange with Mr Jahan, the president indicated that he should look beyond gardening if he wanted to find work quickly.
Mr Jahan said he had already worked in the restaurant trade, but his experience was of rejection.
"I get up in the morning and tell myself: Why get up at six am to look for work when I already know what will happen?"
However, the French gardening federation said the media focus on Mr Jahan's story had produced a stream of job offers and appealed to him to get in touch. The head of the federation joked that the office had turned into a job centre.