Valtònyc: Belgian court refuses to extradite Spanish rapper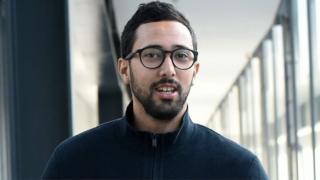 A Belgian court has said it will not extradite a rapper who fled Spain earlier this year after being convicted over his controversial lyrics.
Josep Miquel Arenas Beltrán, known as Valtònyc, was found guilty of insulting the monarchy and glorifying terrorism.
Spain issued an EU arrest warrant after the rapper disappeared before starting his three-and-a-half-year prison term.
But a judge in Ghent refused the extradition request on Monday, according to Valtònyc's defence team.
"The judge has decided there will be no extradition and discarded all three charges," lawyer Simon Bekaert told reporters.
Another lawyer, Gonzalo Boye, was quoted by Spanish news agency Efe as saying: "The judge understands that this is freedom of expression and that none of the phrases in his songs contained criminal content."
In a message on Twitter, Valtònyc thanked his fans and said: "History is written by those who win, and we are still winning."
It is not yet clear if Belgian prosecutors will appeal the decision.
Valtònyc has previously said he did not regret his lyrics, which include a song with the words: "The king has a rendezvous at the village square, with a noose around his neck."
He told the BBC in July that his decision to leave Spain was inspired by Catalan separatist leader Carles Puigdemont, who fled to Belgium after Madrid issued an arrest warrant against him over the region's declaration of independence last year.
A number of artists have been found guilty of glorifying terrorism in Spain over the past year, under laws described as "draconian" by Amnesty International.