War memorial unveiled after Donegal Orange hall fire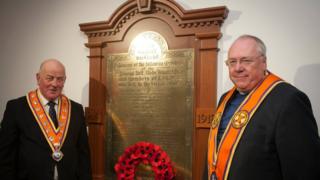 A restored World War One memorial which was damaged in an arson attack on an Orange hall in Donegal has been unveiled in a newly rebuilt hall.
The Orange hall in Newtowncunningham was destroyed in 2014. No one has ever been convicted for the attack.
The refurbishment cost hundreds of thousands of pounds.
The memorial tablet, dedicated to Donegal Orangemen who died in the 1914-18 conflict, was repaired as part of the restoration project.
'Delighted'
Stewart McClean, the District Master of Newtowncunningham Orange lodge, told BBC Radio Foyle: "It's been traumatic trying to find out what happened and piecing things back together again.
"The hall was insured but the insurance only helped us so much. It has cost us £600,000 to rebuild this hall.
"We got some help but it's been difficult."
Grand Master of the Grand Orange Lodge of Ireland, Edward Stevenson, said: "Halls like these are the backbone of our institution right throughout the country.
"I'm delighted to see this new facility open again so that it can be used by people from different communities.
"It's lovely to see the memorial back up where it belongs."
Firefighters from Londonderry and Letterkenny attended the blaze in 2014.
The hall had previously been damaged in a fire in 2009.