Garda Commissioner Drew Harris condemns threats to officer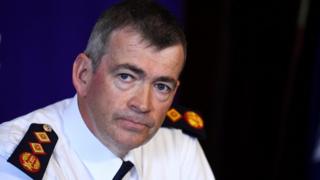 Garda Commissioner Drew Harris has condemned online threats against an Irish police officer.
Police said they are investigating online threats made against a Garda member working in Dublin.
Commissioner Harris said the "threats and intimidation" are "completely unacceptable. I utterly condemn it".
He said Garda members were doing their jobs to keep people safe and uphold lawful order.
It has been reported that the officer who was threatened had policed the Take Back the City housing protest last week.
He was threatened after being named and pictured on social media.
A picture of the officer was shared more than 1,000 times on social media, according to newspaper reports.
The protest came days after five people were arrested for public order offences during a repossession of a house on North Frederick Street in Dublin city.
The property was being occupied by a group of activists protesting over the housing crisis.
The owners of the property had obtained an injunction last month ordering the protesters to leave the building.
Concerns were raised over the role of gardaí, who were wearing fire retardant face masks, during the removal of protesters from the property.
The Garda Press Office said members of the public order unit were wearing fire retardant face masks, which are part of their uniform.
Mr Harris said the use of the "fire retardant hood" by officers at the incident was a matter for the operational commander.
However, he added, the "form of dress used at the event was not correct".