Sinn Féin announce Liadh Ní Riada as presidential candidate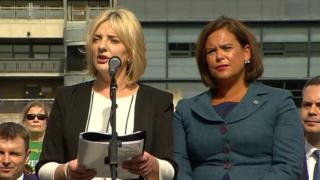 Sinn Féin has announced Liadh Ní Riada as its candidate to contest the Irish presidential election.
Ms Ní Riada is the party's MEP for the Ireland South constituency.
President Michael D Higgins, businessman Sean Gallagher, Senator Joan Freeman and businessman Gavin Duffy are already in the election race.
It is only the second time ever that a sitting Irish president will have to face a challenger.
The announcement was made following a meeting of Sinn Féin's ard comhairle (high council) in Dublin.
Ms Ní Riada said it was a "special honour" to follow in the footsteps of the late Martin McGuinness who was the Sinn Féin candidate in the 2011 Irish presidential election.
"The future of this great country will be built on our glorious diversity," she said.
"An equal society for women and men, citizens of all abilities and disabilities, settled and traveller, LGBT and straight, young and old, black and white, orange and green."
Mr Higgins has the backing of the leading government party Fine Gael, the main opposition party Fianna Fáil and the Irish Labour Party.
The 77-year-old former trade unionist was elected in 2011 for a seven-year term.
But announcing in July that it would contest the election, Sinn Féin leader Mary Lou McDonald said there was an "an appetite for political and social change" in the Republic of Ireland.
Ms McDonald said on Sunday that she believed Ms Ní Riada would make "an exceptional president".
Ms Ni Riada is a former television producer with RTE and TG4.
In order to formally contest the election, candidates need the backing of either 20 members of the Irish parliament or four local authorities.
The election is being held on Friday 26 October. The closing date for nominations is 26 September.