Dragons' Den judge Gavin Duffy to stand for Irish president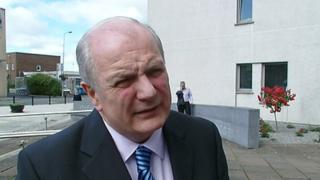 A judge on Ireland's version of reality TV show Dragons' Den has secured his place on the ballot for the upcoming Irish presidential election.
Businessman Gavin Duffy won the nomination after being backed by four local councils.
He will be joined on the ballot by Sean Gallagher, Senator Joan Freeman and President Michael D Higgins, who has said he will seek a second term.
The election is due to take place on 26 October.
Mr Duffy said he was "looking forward to now going out and being able to state my case to the people to go forth and be elected president of Ireland".
The election will mark only the second time ever that a sitting Irish president will have to face a challenger.
Mr Higgins is backed by the ruling Fine Gael, the main opposition Fianna Fail and the Labour Party, of which he is a member.
The 77-year-old former trade unionist was elected in 2011 for a seven-year term.
Mr Duffy is not the only Dragons' Den affiliated challenger to Mr Higgins - Mr Gallagher, a businessman, is a former judge on the reality TV show.
Mr Gallagher is also running for the second time, having come second to Mr Higgins in the last presidential election in 2011.
He and Ms Freeman secured their nominations on Tuesday.
Sinn Féin is due to announce its candidate for the race on 16 September.
A number of other prospective candidates have been appearing before councils seeking the four nominations required to get on the ballot.