Greek riot police fire tear gas at Macedonia name protesters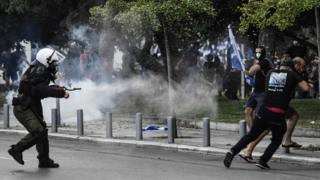 Greek police have fired tear gas at protesters angry at a deal to allow the country's northern neighbour call itself the Republic of North Macedonia.
Youths wearing gas masks threw stones at police in the city of Thessaloniki, where Prime Minister Alexis Tsipras later spoke about his economic plans.
Many Greeks say only the northern Greek region of Macedonia should use the name and not the former Yugoslav state.
Macedonians will vote on the name change at the end of the month.
Thousands of demonstrators reportedly took part in the protests on the streets of Thessaloniki, many of them waving Greek flags.
Images and footage broadcast on Greek television showed riot police pursuing protesters as they ran alongside barriers ahead of Mr Tsipras's address on Saturday.
Some have argued that by using the name Macedonia, the country is implying that it has a claim to the Greek region.
Earlier in the Macedonian capital, Skopje, German Chancellor Angela Merkel told Macedonians that they had a historic opportunity with the forthcoming vote to let their nation integrate with Europe and eventually to join Nato and the European Union.
In his keynote speech on Saturday, Mr Tsipras outlined plans for tax cuts, an increase to the country's minimum wage and promised to reinstate labour rights.
"We will not allow Greece to revert to the era of deficits and fiscal derailment," he said.
What is the Macedonia row about?
In June, Greece reached a deal on the name of its northern neighbour, which called itself Macedonia at the break-up of the former Yugoslavia.
After 27 years of talks - and many protests - the two settled on the formal name of Republic of North Macedonia.
Greece had earlier objected to the name Macedonia, fearing territorial claims on its eponymous northern region, which includes the country's second city Thessaloniki.
It had also vetoed the neighbour's bid to join Nato and the European Union.
The new name now needs to be approved by the Macedonian people and the Greek parliament.
What is the deal?
Under the deal, the country known at the United Nations as Former Yugoslav Republic of Macedonia (Fyrom) will be named the Republic of North Macedonia.
Its language will be Macedonian and its people known as Macedonians (citizens of the Republic of North Macedonia).
Significantly, they agreed that the new name would be used both internationally and bilaterally, so that even the 140 or more countries that recognise the name Macedonia will also have to adopt North Macedonia. In Macedonian, the name is Severna Makedonija.
They also agreed that the English name could be used as well as the Slavic term.